ASB Informational Meeting
Hang on for a minute...we're trying to find some more stories you might like.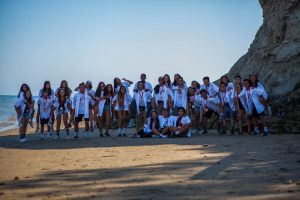 Calling all leaders of Canyon High School! Canyon ASB invites you to come out to our mandatory information meeting for the 2018-2019 ASB Cabinet. At this meeting, you'll learn about ASB, the application process, and the expectations for all members of ASB. The meeting will be held on Tuesday February 13 and Wednesday February 14 in the Large Gym at Lunch. You MUST attend this meeting to apply for the ASB Cabinet for 2018-2019 school year. We hope to see new and bright faces who will lead our school through service.
What is ASB? ASB stands for the Associated Student Body, the Canyon High School official student representatives. The ASB Cabinet for this year (2017-18) is comprised of 31 students from all grade levels. Each person has a specific job which they are responsible for, but ASB as a whole work together to execute successful events like Dances, Pep Rallies, You Matter Week, etc. There is a representative for virtually every large program on campus like Performing Arts, Education, Multimedia, Clubs and many more. Victoria Montalvo (11th grade) says "As Junior Class Vice President, it's important for me to work alongside Usman Khan (Junior Class President) to set up fundraisers for my class. I love being able to be a class representative this past year and making the Class of 2019's junior year memorable."
At the mandatory information meeting, Mr. Smith, The Canyon ASB Activities Director will be sharing about the application process for this year. There are elected and appointed positions and will have different application processes. We will be handing out ASB information and application packets for everyone. The application must be completed, typed and turned into the Student Center. The elected positions will then be required to create a campaign video and campaign during election week. Appointed positions will have an interview where they present to a panel of students and administrators. The application process will be completed in May 2018 and the ASB cabinet for 2018-2019 will be announced.
As representatives of the Student Body, ASB members are expected to have good academic and attendance standing. Another key expectation for ASB members is teamwork, time management, and the willingness to serve. ASB is committed to our motto of Leadership through Service in everything we do from events to making posters. Julian Milan (11th grade) says " By far the most important reason I love ASB  is that ASB does so many things on and off campus for the betterment of the school, with almost no recognition and are proud of it."
ASB representatives have a unique experience unlike any other. Reena Patel (12th grade) says " I entered high school thinking all I would do for four years is learn, but, through ASB, I have found what I value in life: working with peers to serve others and create an impact." Being leaders in the school pushes members of ASB to attend events and support other organizations on campus. Keane Bui (10th grade) says "My favorite part of ASB is going to all the events and cheering on my fellow students."