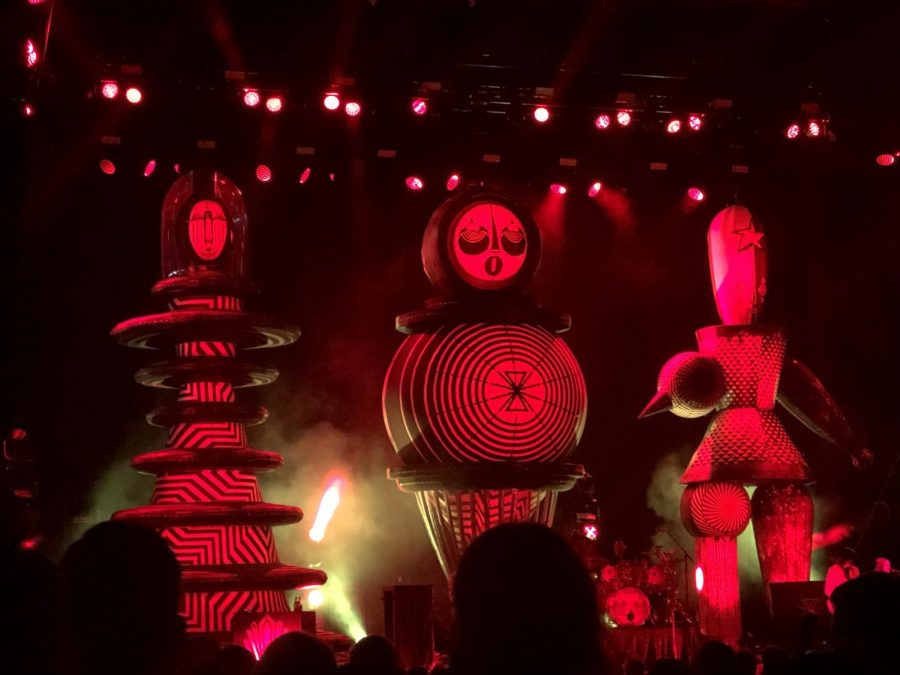 Nadia Harman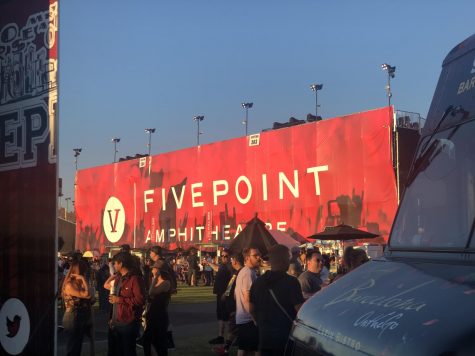 AFI, Noel Gallagher and Smashing Pumpkins are not names you would hear next to each other on a concert bill. Even die hard fans would most likely turn their heads in confusion. On Aug. 29th at Irvine's Five Point Amphitheatre these bands proved that completely wrong.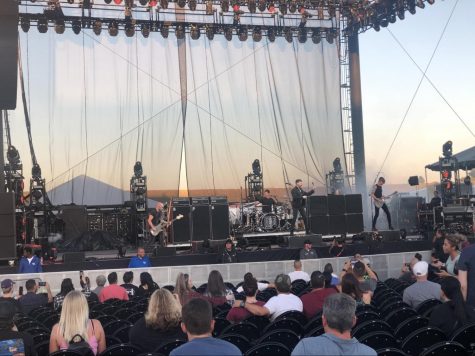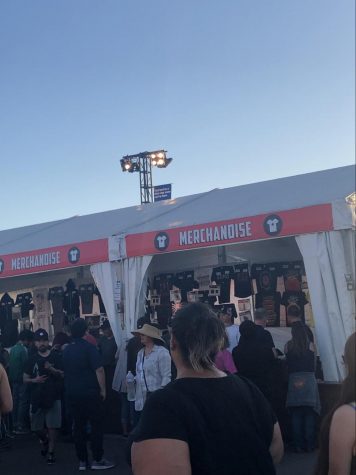 In between sets you could find fans roaming around the large concourse set up at Five Points. Plenty of food and drink options were available as well as a line of food trucks. The Merch booth was all set up in 2 large tents: Plenty of shirts, mugs, stickers and even blankets were available for purchase. Arcade games and cornhole were also available to entertain concert goers through the night.
  Noel Gallagher's High Flying Birds hit the stage next. The band was formed in 2010 by former Oasis lead guitarist and main songwriter, Noel Gallagher. Since his first album self titled 'Noel Gallagher's High Flying Birds' he has put out two other studio releases with plans on putting out an album on Sep. 27th. The eleven piece walked out to their own instrumental track titled "Fort Knox" and picked up halfway through and played
it live. The first five songs where from the latest 2017 studio release 'Who Built the Moon' and two new songs titled "Black Star Dancing" and " This is the Place." Both new tracks were inspired by pop/funk guitarist Nile Rodgers.
The rest of Gallagher's setlist were songs from his most known band, Oasis. He was handed an acoustic guitar and asked the crowd if they liked Oasis. "Good because this ones for you and you better like it." The intro to "Wonderwall" one of the most known rock songs in the world rang through the speakers. The entire crowd sang whether an Oasis fan or not. Most Oasis fans wanted Gallagher to play a song off of the 1994 album 'Definitely Maybe' which came out 25 years ago that day.
Oasis was formed in Manchester, England in 1991 by brothers Noel and Liam Gallagher. The brothers put out their debut album 'Definitely Maybe' which debuted at number one in the U.K.  The group had many successful albums in a 15 year period until 2009. The Gallagher brothers had been touring for their album 'Dig Out Your Soul' when they began to fight almost every night until one night at their Paris leg of the tour it was so bad, they broke up the band completely. Recently, Foo Fighters frontman and former Nirvana drummer Dave Grohl said at the Reading festival that he was going to "Make a petition to reunite oasis" while Foo Fighter drummer Taylor Hawkins had a picture of the Gallagher brothers on his bass drum head. Gallagher had some explicit words for Grohl at Five Points.
The last few songs of Gallagher's set included Oasis songs that most fans knew. They ended their set perfectly with a cover of the 1969 Beatles song "All You Need Is Love." The sound of the French national anthem was played through the horn section and the band that was 4 of the original Oasis members including Gallagher stood at a salute. They played the song phenomenally and left the stage.
Smashing Pumpkins performed after and their stage set up was really nice to look at. They had big balloons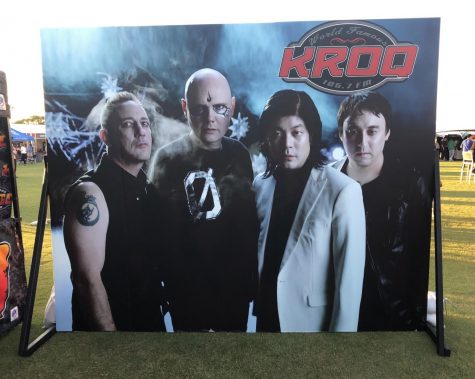 representing the three of the four original members of the band. They opened with their song "Today" which was an odd choice to open with. Their next song "Zero" has a heavier tone to it and should've been used to open the show. The rest of their set was amazing and they satisfied their fans from all eras. Throughout the night they paid homage to musicians that influenced them or that where just good friends to them. Before playing one of their most well known songs "Bullet with Butterfly Wings" Billy Corgan player the riff of the classic Nirvana song "Come As You Are." They even played a heavier version of James Taylor's "Fire and Rain."
The Smashing Pumpkins played with three of their original members. Original bassist, D'arcy Wretzky, refused to join the tour no matter how many times the other three members asked. The new bass player was a perfect fit and played everything really well. The band was introduced by Corgan and when he finally introduced himself he said "My names William Patrick Corgan and when I'm not breaking hearts, I'm laying down some leads."
All bands performed so well and it really was a great concert to be at. If you weren't at this concert and love all three of these bands you really missed out on an amazing night of live music. Everyone at this show was very friendly and the venue was perfect.