Drew Brees' Retirement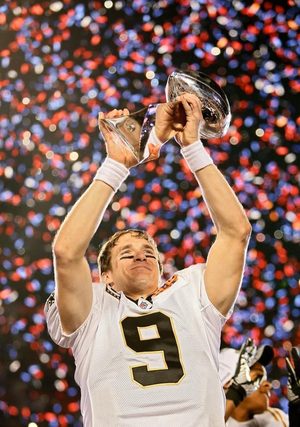 After 20 years in the NFL, all-time great quarterback Drew Brees is retiring. He announced his big decision on Sunday the 14th with a video from his four kids (the letter with the video, click here to see). The decision seemed to be inevitable for a while now. After the Saints' loss to the rival Buccaneers, who went on to win the Super Bowl, he was expected to announce his retirement this offseason.
The past 4 years, the Saints have won their division and have been Super Bowl contenders but have had unfortunate playoff experiences. In 2017, they lost to the Minnesota Vikings in the Divisional Round on a last-second play dubbed the "Minneapolis Miracle." In 2018, they lost in the NFC Championship to the Los Angeles Rams largely blamed on a no-call of a play many believed to be a clear pass interference. In 2019, the Saints lost to the Minnesota Vikings again, but this time it was the Wild Card Round while they were at home. This year, they lost 30-20 to the Tampa Bay Buccaneers in the Divisional Round. All 4 years people were disappointed and all four years retirement speculation started to arise.
Despite the recent letdowns, Drew Brees will go down as one of the best NFL players ever. He is currently the all-time leader in passing yards in NFL history with 80,358 yards and is the second best all-time in both passing touchdowns and completion percentage with 571 TD's and a percentage of 67.7%. Drew Brees also holds many other impressive records, like being the only quarterback to throw for 5,000 yards in a season more than once, doing it five times, having the most consecutive games with a touchdown pass, doing it 54 times, and having the highest single-game completion percentage ever with 96.7%. On top of all the stats and records, Drew Brees also has a Super Bowl and a Super Bowl MVP to his name. The win was especially legendary because it was at a desperate time in New Orleans' history–Hurricane Katrina had blasted through the state and ravaged New Orleans just the year before.
Moving forward, Drew Brees will not be gone from the public eye. Though he will not be on the football field on Sundays anymore, he has taken a commentator job at NBC. Until we see him again on TV, we can look back at his career and enjoy the legendary times we experienced.
https://www.espn.com/nfl/story/_/id/31065863/new-orleans-saints-qb-drew-brees-retires-nfl-20-seasons
Leave a Comment