Black Lives Matter Protests and Racial Justice in America
October 12, 2020
Recently, there have been a series of nationwide protests in response to the deaths of African-Americans, starting with the tragic passing of George Floyd. Floyd's death, along with the deaths of many others, were caused by systemic racism in the United States. This form of racism can be seen all over the country, however, these protests mainly focused on the issue of police brutality. There are many incidents where police officers have killed or seriously injured black people who were in their custody. George Floyd, for instance, was a 46-year-old African-American man who was killed in Minneapolis after a white police officer, named Derek Chauvin, handcuffed him and pinned him to the ground with his knee on Floyd's neck for almost 9 minutes. A group of bystanders captured video of the incident, in which George Floyd can be heard repeatedly saying, "I can't breathe." The video has since become a driving force for protests in Minneapolis and across the country and around the world, in cities including Portland, Kenosha, Los Angeles, and New York.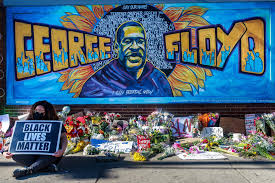 New incidents of police brutality have surfaced since, some that have gone unnoticed for months or even years. For example, in March, Daniel Prude was killed in Rochester, New York while in police custody. He was asphyxiated by police officers, who covered his head with a "spit sock" and knelt on him. Cases like this have set off massive protests in cities across America, in conjunction with the George Floyd protests.
Though most have been peaceful, some of these protests have turned violent, such as the protests in Kenosha, Wisconsin, in response to the shooting of Jacob Blake, another victim of police brutality. Generally, the Black Lives Matter protests themselves are peaceful, though some rioters join the protests as an excuse to destroy buildings and properties.
Many peaceful protests have been met with police forces and members of the national guard, who use tear gas and rubber bullets to deter crowds. This led to much frustration and anger among protesters, who felt as though they were being silenced. This anger was further expressed when President Trump used the National Guard to walk across the street for a photo-op with a Bible in front of a church.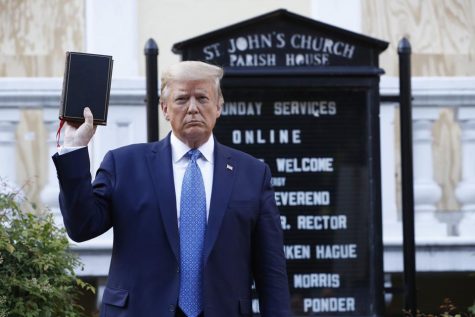 Protesters are pushing for the reform of the criminal justice system and many other aspects of American society that are systemically racist. They hope to transform the country, and to amplify the voice of African-Americans in the United States.
These protests are echoing the calls for justice, equality, and the end to systemic racism that have existed in the United States for years. "Indeed, in America there is a strange and powerful belief that if you stab a black person ten times, the bleeding stops and the healing begins the moment the assailant drops the knife," Ta-Nehisi Coates, a national correspondent for The Atlantic, said. "We believe white dominance to be a fact of the inert past, a delinquent debt that can be made to disappear if only we don't look." America needs to unite and stand against racism and stereotypes in order to eliminate the hatred amongst different ethnic groups and move into the future as a truly equal country.
Courtesy of the New York Times
To learn more about the organization behind these protests, visit the Black Lives Matter Website.
Update: Since the writing of this article, one of the three officers involved in the shooting of Breonna Taylor were charged. Brett Hankison, who has been fired since the shooting, was charged with three counts of wanton endangerment, because he fired some shots into other apartments. However, all charges directly linking the officers to Breonna Taylor's death have not been declared.
In addition, on October 3, another African-American man named Jonathan Price was killed after an encounter with police officers. Texas police officer Shaun Lucas has since been charged with murder for Price's death.
https://www.cnn.com/2020/10/07/us/jonathan-price-police-shooting-texas-report/index.html
https://www.npr.org/sections/live-updates-protests-for-racial-justice/2020/09/23/914250463/breonna-taylor-charging-decision-to-be-announced-this-afternoon-lawyer-says
https://www.theatlantic.com/magazine/archive/2014/06/the-case-for-reparations/361631/
https://www.huffpost.com/entry/black-lives-matter-quotes_n_6277412
https://www.cnn.com/2020/08/26/us/kenosha-wisconsin-wednesday-shooting/index.html
https://www.cnn.com/2020/09/07/us/daniel-prude-rochester-protest-monday/index.html
https://www.nytimes.com/article/george-floyd-protests-timeline.html
https://www.cnn.com/2020/09/03/us/five-things-september-3-trnd/index.html
https://www.nytimes.com/2020/06/02/us/politics/trump-walk-lafayette-square.html