NBA Finals 2020: The Lakers Become Champions Once Again
October 14, 2020
The Los Angeles Lakers defeated the Miami Heat in a 106-93 game on Sunday, October 11 in Orlando to claim their 17th Finals victory, bringing them to a tie with the Boston Celtics for the most NBA Final wins of a franchise throughout NBA history. This win comes ten years after the last time the Lakers made it to the Finals.
All Finals and Playoffs games took place in the NBA "Bubble", after the NBA had to stop games in March due to a few players testing positive for COVID-19. The season resumed in late July, and the teams were put in a "bubble" at the Walt Disney World Resort in Orlando, Florida. This is where games and practices were held, and where the players stayed for the remainder of the regular season and playoffs in order to prevent any future outbreaks of COVID-19 within the league.  
The 2020 NBA Finals consisted of six games, four of which the Lakers won. LeBron James, Lakers forward and Finals MVP, finished the game with a 28 point triple-double. This was his fourth Finals victory and the fourth time he received the Finals MVP award. It is, however, his first Finals victory with the Lakers.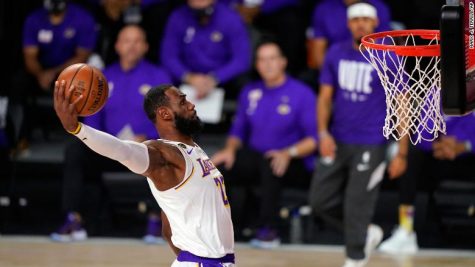 The Lakers franchise fought through the longest season in NBA history to become the champions, even after the tragic passing of Laker legend Kobe Bryant, who was killed in a helicopter crash earlier this year. In addition, last season's team president and former Lakers player Magic Johnson left the team, and former coach Luke Walton was fired during the off-season. 
Back in Los Angeles, Lakers fans took to the streets surrounding the Staples Center, which serves as the home stadium of the Lakers. Although city officials warned against it, a large crowd was formed in front of the stadium, with people chanting, "Kobe", in honor of the late Lakers icon. Purple and gold smoke bombs were thrown while people danced and jumped in  the streets in celebration of the victory.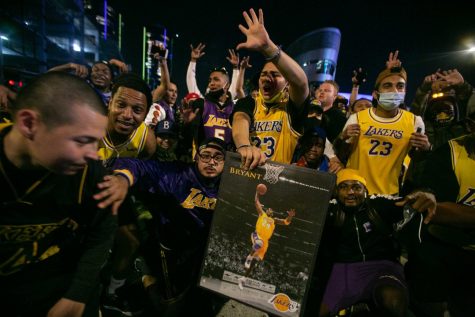 The Lakers win is much more than a victory for the team. It is a victory for the entire franchise, for Los Angeles, for Southern California, for Lakers fans, and most importantly, for Kobe Bryant. 
Sources:
https://www.latimes.com/california/story/2020-10-11/lakers-championship-staples-center-crowds
https://www.cnn.com/2020/10/11/sport/nba-finals-game-6-lakers-heat-spt-intl/index.html
https://www.nytimes.com/2020/10/11/sports/basketball/lakers-nba-title.html
https://www.washingtonpost.com/sports/2020/10/11/lakers-heats-nba-finals-game-xxx/