Get to Know Joe Biden
February 3, 2021
Joe Biden was inaugurated as the 46th President of the United States on January 20, 2021. However, his path to the presidency was long and hard. Here is the story of a young boy born in a blue-collar city turned into President of the United States.
Joe Biden was born Joseph Robinette Biden Jr. in Scranton, Pennsylvania on November 20, 1942. He was born the eldest son of four children to Catherine Eugenia Finnegan Biden and Joseph Robinette Biden Sr. The Bidens moved to Claymont, Delaware in 1953, when Joe was 10 years old.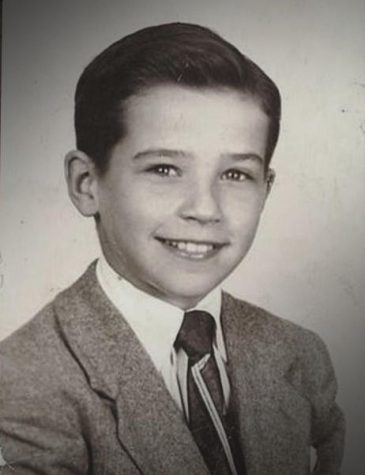 Biden later attended the University of Delaware, where he majored in history and political science. In 1966, a year after graduating, Biden married Neilia Hunter, with whom he had three kids: Joseph R. "Beau" Biden III, Robert Hunter Biden, and Naomi Christina Biden. He then transferred to Syracuse University, where he earned a law degree.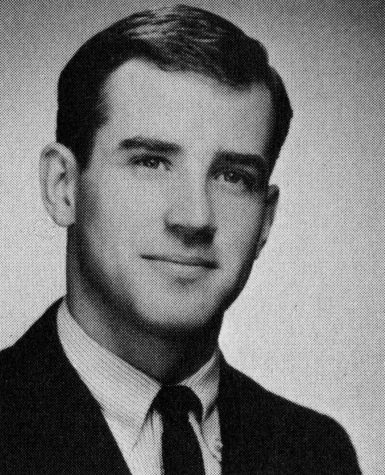 Joe Biden worked as an attorney before being elected to the New Castle City Council. In 1972, Biden was elected to the United States Senate. However, on a fateful December day before he was sworn in, his wife and one-year-old daughter, Naomi, were killed in a car accident. Biden's two sons, Beau and Hunter, survived but were both seriously injured. He was sworn into the Senate in a hospital alongside his injured sons.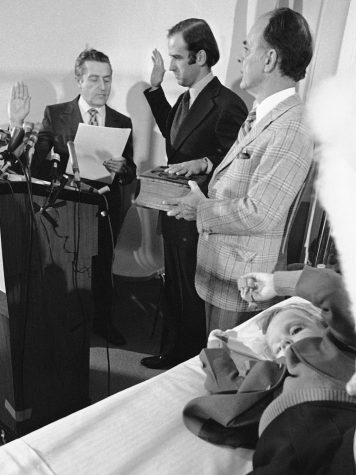 In order to spend more time with his sons while working in the Senate, Biden took a train from their home in Delaware to Washington D.C. every workday.
He married Jill Jacobs in 1977, with whom he had one daughter: Ashley Blazer Biden. Dr. Jill Biden holds a Ph.D. in Education and will continue to teach at Northern Virginia Community College during her time as First Lady.
Biden ran for president in the 1988 election, trying to secure the Democratic Party's nomination. However, he was accused of plagiarism and was forced to drop out.
In February of 1988, Biden was forced to take seven months off of working in the Senate after suffering a serious brain aneurysm, for which he went through two surgeries for.
During Joe Biden's 36 years in the Senate, he became known for his work on criminal justice reform and foreign relations. He also worked on issues like campaign finance reform, arms control, climate change. In addition, he spent 17 years on the Senate Judiciary Committee as Chairman or Ranking Member.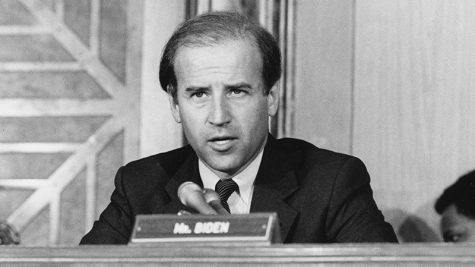 In 1993 and 1994, Biden helped to pass the Brady background check bill and bans on assault weapons and high-capacity magazines. He also wrote and helped to pass the Violence Against Women Act, which criminalized violence against women, created new resources for assault survivors, and changed the national tone on domestic and sexual assault.
For 12 years, Joe Biden held a seat as Chairman or Ranking Member of the Senate Foreign Relations Committee. On the committee, he helped to resolve issues in post-Cold War Europe, the Middle East, and Southwest Asia, and to create legislation for ending Apartheid, fighting terrorism, and eliminating weapons of mass destruction.
Biden ran for the Democratic Party's presidential nomination again, but could not secure the ticket. However, in 2008, then-candidate Barack Obama chose Biden to be his vice president. They went on to win the election, followed by reelection in 2012.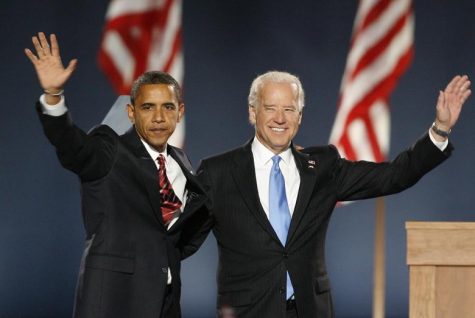 After becoming vice president, Joe went on to help the nation recover from the 2008 economic recession by helping to carry out the American Recovery and Reinvestment Act. He worked on improving the living standards of middle-class Americans by directing his work to make college more affordable and to grow the American manufacturing industry. In addition, Joe Biden ensured the Senate approved the START nuclear arms reduction treaty with Russia, led the move to end the Iraq War, helped to reimplement leadership in the Asia Pacific region, making progress in supporting security in Israel, getting the administration's more effective European missile defense plan approved, collaborating with the leaders of Latin American countries in the fight against drug trafficking and international crime, and strengthening relations with key African leaders. Biden also helped Obama in making and passing the Affordable Care Act, which gave health insurance to millions of Americans for a low cost. Biden was prominent as one of the early supporters of the Equality Act, which gave rights to members of the LGBTQ+ community. After the Sandy Hook Elementary shooting, Joe Biden helped to pass more than 24 legislations to create safer communities, especially in schools. These legislations helped to improve background checks for gun purchases and shrink the loophole for gun shows. In 2015, Biden's eldest son, Beau Biden, died after battling brain cancer. The following year, Biden was appointed by Obama to lead the "Cancer Moonshot," as it came to be called, with the goal of making a decade's progress of cancer prevention, diagnosis, and treatment advances happen in five years. Before leaving office as vice president, Biden received the Presidential Medal of Freedom with Distinction from President Obama.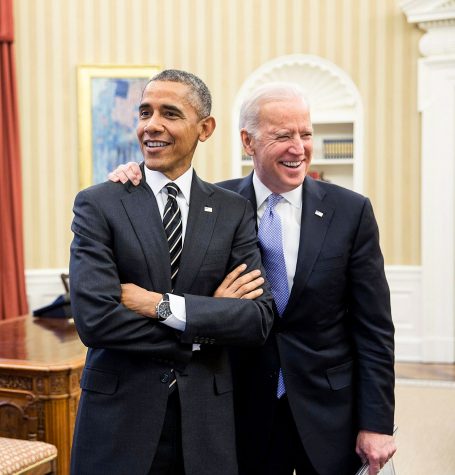 After leaving office, Biden and his family worked to create the Biden Foundation, the Biden Cancer Initiative, the Penn Biden Center for Diplomacy and Global Engagement, and the Biden Institute at the University of Delaware.
On April 25, 2019, Biden announced another bid for the presidency. He ran against 28 others for the Democratic nomination, and won. On August 11, 2020, Biden announced Kamala Harris, a former Democratic primary rival, to be his pick for vice president. Harris made history as the first African-American and South Asian woman candidate on a major party ticket. Biden and Harris worked together to create a presidential agenda which included providing federal aid to communities stricken by poverty, creating legislation to combat climate change, creating child care that is affordable, and expanding the Obama-era Patient Protection and Affordable Care Act, in order to appeal to progressives.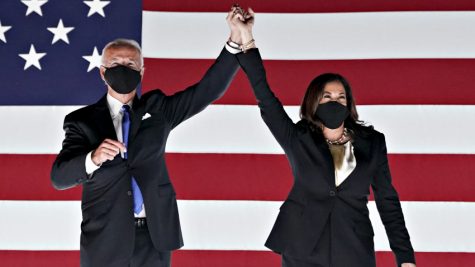 Although the election was held on November 3, 2020, the full results didn't come in for a few days due to the volume of mail-in ballots amid fears of the COVID-19 pandemic.
On November 7, 2020, Joe Biden was announced the winner of the election, defeating incumbent President Donald Trump. Trump went on to argue that the election was rigged, even inciting a riot at the Capitol on the day the election was being certified by Congress, but Biden and Harris were still inaugurated on January 20, 2021.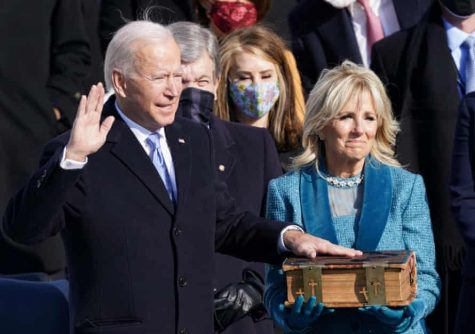 As president, Joe Biden is faced with a number of challenges: the coronavirus pandemic, racial justice, and political extremism, to name a few. Although his plans are ambitious and difficult to carry out, he plans to resolve these problems during his term to "build back better" and create a better nation.
Sources:
https://www.history.com/topics/us-presidents/joe-biden
https://www.britannica.com/biography/Joe-Biden
https://www.nytimes.com/2021/01/20/us/politics/jill-biden-first-lady.html
https://obamawhitehouse.archives.gov/realitycheck/node/110