House of the Dragon Season One Review
New show, House of the Dragon, premiered on HBO Max with wild success as a prequel to Game of Thrones.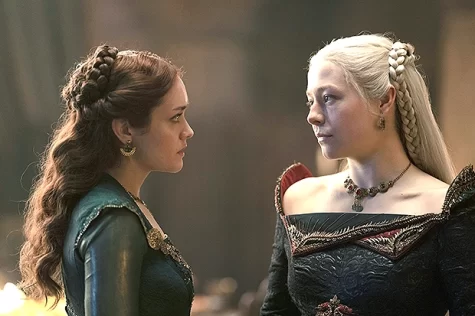 The new HBO Max show is a prequel to the popular Game of Thrones fantasy series. The series is based on George R.R. Martin's "Fire & Blood." It takes place almost 200 years before the events of Game of Thrones and follows King Viserys I Targaryen's children's fight to ascend the Iron Throne. The season first aired on August 21st and is now fully released on the streaming platform. 
After watching the show I am very impressed with the directors and writers' representation of women in power and the reversing of gender roles. King Viserys' oldest child, Princess Rhaenyra Targaryen was named his heir to the Iron Throne. For the show, during this time, women holding any real power position, especially that of the heir, was mostly frowned upon. Women were mainly used to be sold off or become symbols of homes. Rhaenyra's character did a wonderful job of breaking gender stereotypes of the time and fighting for her place on the throne. I believe actor Emma D'Arcy truly embodied this character wonderfully. D'Arcy identifies as non-binary and was born in London. Their contributions to House of the Dragon as a newer actor are truly astonishing. While newer to such big productions, they brought amazing chemistry to the relationship their character creates with Prince Daemon Targaryen.
The marriage between the uncle and niece was definitely an odd surprise. The first thing that popped into my mind when they became closer was the relationship between the siblings Cersei and Jamie Lannister in the original Game of Thrones. Definitely very odd by our society's standard but not so much for that of the show. Prince Daemon and Princess Rhaenyra had always been close. They formed their marriage shortly after both were widowed in order to solidify Rhaenyra's support for the throne. While I have my opinions, I cannot deny the complexities and intrigue this relationship brought to the show. 
Directors also did an amazing job creating real tension between Princess Rhaenyra and her previous best friend, now mother-in-law, Queen Alicent Hightower. The two both got along until it was announced that Alicent would marry the king. Since then they have been fighting and plotting behind each other's backs. Alicent poses a threat to Rhaenyra because her son (Rhaenyra's half-brother) has a true claim to the throne in the eyes of those who still follow standard gender roles and believe a woman is not fit to sit on the throne. The tension between Alicent and Rhaenyra was always present and it was super exciting to see what each would do next.
The last episode definitely left us on a big cliffhanger. We see that after King Viserys' death Alicent usurps the throne and places her son, Prince Aegon, on the throne. Word reaches Rhaenyra after his crowning. The last episode focuses on her planning to take back the throne and confirm her allies. It concludes after Rhaenyra discovers her son has died and her rage has grown. 
Overall, I believe this show was almost better than Game of Thrones. It was very complex and intriguing, always leaving you with questions at the end of every episode. I definitely recommend watching it if you are a fan of the original show but you definitely don't have to have seen Game of Thrones to watch it. 
Leave a Comment