Midnight Madness: The Kick Off to Boys Basketball Season!
The Canyon Boys Basketball team started off season with a bang by hosting Midnight Madness to excite students for the upcoming season.
On October 28th, Canyon's Boys Basketball kicked off their season with Midnight Madness playing against our very own, Canyon Alumni.  The event consisted of a three point contest, slam dunk challenge, and most importantly an alumni game versus our varsity team that couldn't be beat.
The night started off with a three pointer contest among students from the girls team, boys team, as well as some alumni. Jojo Ballestero, a Canyon High School alumni, was the final winner of this challenge with the most scored three pointers.
 After the three pointer contest, the dunk contest took place. Our judges, Coach Sean Barnett, Coach Justin Aluya, and Coach G, ranked all of the contestants out of 10. The contestants worked hard to make their dunks and hopefully win the contest, but the final winner of the contest, Jaden Goodall(11), would reign victorious. 
The night continued, starting with the announcing of players on both teams. People on the stands cheered with excitement for students like Pasha Golestaneh(12), Connor Leonard(12), and many other players. Finally, the alumni game would commence, with the first shot scored by student, Brandon Benjamin(10). Soon after Jojo Ballestero would swoop in and score, tying their scores. The game would continue leaving the crowd cheering for both teams as people watched the players running back and forth on the court. Overall the close game would leave people on their tippy toes, watching and waiting to see who would win. The scores remained very close, either down by one or two points, but eventually Canyon (current team) would win 83- 69. 
After the game Jojo Ballestero and I had a conversation about the game.
 When asked how he felt to be back on the basketball court for the game he exclaimed, " It felt amazing, I went to highschool here, obviously, so, to be able to put on that uniform once again and get out here and it felt like it was just yesterday that we were here playing with my teammates and obviously we are playing against Coach Nate, but it was just overall a great experience to be here with my Canyon family."
When asked about the game overall he stated that the whole team was very difficult to play against, but specifically believed that Jaden Goodall(11), Josh Goodall(11) and Brandon Benjamin(10) were the most difficult players on both offensive and defensive ends.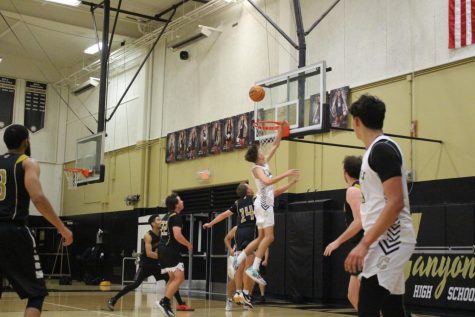 With such a fun kickoff, it's safe to say that everyone is expecting a great season up ahead. To find out more information on game days and times, check out https://canyonathletics.org/. 
Leave a Comment