Starbucks Holiday Season is Here!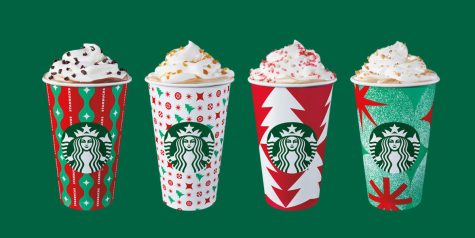 Starbucks' famous holiday drinks are always popular every year. This year they come out on November 3. Some of these popular holiday drinks are the peppermint mocha, caramel brulee, and the chestnut praline latte. Along with these seasonal drinks and festive pastries, Starbucks will be bringing out the holiday cheer with its classic red cups. With the new holiday drinks comes new foot traffic in stores and drive-throughs. The months of November and December tend to be Starbucks' busiest of the year. This includes their annual red cup day, which is when they give away free red cups to any member who orders a signature holiday drink on the date to be determined. So while customers love this time of year, how do the employees feel? 
Canyon student and local Starbucks barista, Leilani Portillo (12) says, "Working at Starbucks is very challenging. It is always a good feeling to see a smile on someone's face when they get their daily dose of caffeine. I'm very excited about the new drinks coming to our menu and I'm even more excited for our community to try and love them."
As much as it is stressful many Starbucks employees love this time of year just as much as the customers. It makes working there even more exciting and fun. This year their holiday cups will include mint green to give them a cozy and comfy vibe. In previous years they have had the cups designed by small artists across the country who submitted their designs. The designing of holiday cups has been a tradition since 1997. Their goal with the cups "captures a moment in time with its own unique take on the holidays." says Gary Jacobson, Starbuck's creative director for the 2022 holiday campaign.  
Serena Murillo (12) says, "I always look forward to the holiday season at Starbucks, it really ties in the classic Christmas feeling everyone enjoys!"
You can expect Starbucks to have these holiday cups and drinks at their stores until roughly the second week of January. This gives you plenty of time to head over to your nearest Starbucks and grab a peppermint mocha (my personal favorite). All Starbucks stores are participating even those in grocery stores.