The Savannah Bananas Upcoming Season
With the Savannah Bananas season coming up, much is to be expected from the team.
With the baseball season just around the corner, many are ready to root for their favorite team, but one team seems to stand out from the others, one that is unlike most, the Savannah Bananas. The Savannah Bananas were founded in 2016 in Savannah, Georgia and have played at Grayson stadium since the beginning. Until 2022, they had played in the Coastal Plains League where they won three cups. But what makes this team different from others? What makes this team so special that they sell out every game they play? It's simply how they play. 
The team says that they want to bring fun back into baseball and push the limits, they want to push the lines and bring enthusiasm back into the games and the sport. Some things that happen at their game are no bunting, no stepping out, batters can steal first, no walks allowed, no mound visits, and if a fan catches a foul ball the person is out. The team has also been seen wearing clothing that is not typically worn in games – stilts, no shirts, long skirts, tutus, banana costumes, and robes. 
But what makes this game so fun? So fun that they sell out every game. It's also their involvement with the fans. They include them in the game, the team tries to include fans in most things and makes it fun for all ages, as well as doing things like dancing while the game is going. 
Another reason they are so popular is because of social media. Social media tends to like funny things that are easy to laugh to and easy to enjoy. With the team posting on sites such as Tik Tok, fans can watch funny videos that are easy to interact with and in return interacting back on social media helps them gain fans and followers. 
What does the future hold for the team? For the 2022-2023 season the team is doing a coast to coast tour and tickets for the games are already selling out as fans get excited to see them and experience the fun of their games in person. Tickets also are only $25 dollars while including all you can eat food, a good deal for anyone looking for a good time without having to spend too much money.
Even though other teams that are pro can not do the exact same thing because of rules and regulations in professional sports. Many teams can look to the other team in order to take games to another level other than just the game. The team can pave the way for new trends and new things to include in games for all sports. Overall the team has shown the fun baseball can have and how not all sports have to be serious in order to have fun and give fans a good time while watching. The team also has shown you can still have a good team while having fun no matter what sport or team it is.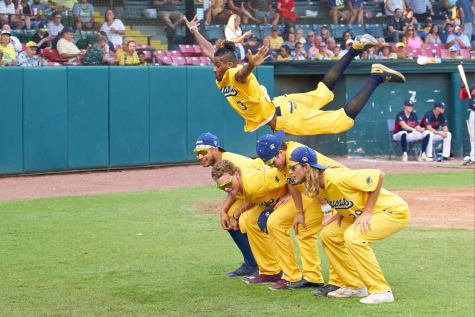 Leave a Comment