Live at the O2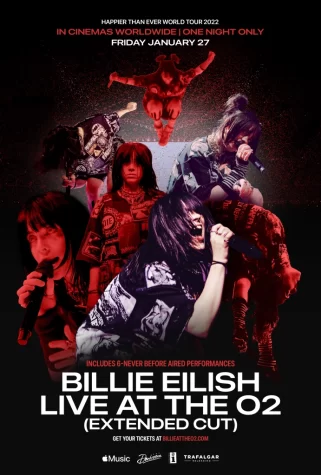 A look into the thrilling shows of the Happier Than Ever World Tour, behind-the-scenes movie. Fans from all around the world will be getting this once-in-a-lifetime opportunity to watch all 6 shows of her performances at the O2 Arena that took place in London, Billie Eilish: Live At The O2 (Extended Cut).
Who is she? Billie Eilish is an American singer-songwriter who first debuted after releasing the iconic song "Ocean Eyes" back in 2015. A song written and produced by her very own brother Finneas O'Connell. At just the age of 13, her song went viral, appearing on the radio. Shortly after, she created a fan base and it didn't take long before people knew she was destined for fame. Having won 8 Grammys, 5 MTV Video Music Awards, and many more at only the age of 18.
Friday, December 16th, 2022, Eilish released a trailer for the extended version of her live concert special. It will only be broadcast for one night only, strictly in theaters across the world on January 27th. The show was recorded during the 6 nights of live shows at the O2 arena during the Happier Than Ever World Tour. The trailer consists of many shots taken at the concert showing her singing on stage, dancing, and even playing with go-karts backstage. Eilish can be heard saying, "We're professionally filming this entire show. It's the only time we've done that!" with the fans in the crowd going absolutely wild.
With theater tickets only costing $18, and on sale since Wednesday, December 21st, fans have been going crazy. TikTok videos have been made about people hoping to try to turn the theater into a concert for everyone attending. These TikToks have been saying, "if you guys aren't screaming the lyrics along with me I swear," and other things like "this is basically a Billie Eilish Concert for 18 bucks! You better be singing as loud as you can!"
The film will be featuring 27 songs across 95 minutes, including "Bad Guy," "Therefore I am," "Bury a Friend," "Happier Than Ever," and many more. They were able to capture the sound of this amazing show, thanks to the usage of the Dolby Atmos Spatial technology. The show will also include six extra songs that were not in the original film. During an interview at Variety, Eilish said "I've always wanted to make a music film that truly captures the energy of my live show. These past 16 months have been so special to me, to be able to be back out on the road, performing live and sharing rooms with so many amazing people all over the world. This film is a visual live experience and keepsake for us all, celebrating everything that I love about this tour, and most of all, everyone who came out to see me. This is my thank you."