The Ultimate Case of Sibling Rivalry
The first brothers to ever face off against each other in the Super Bowl .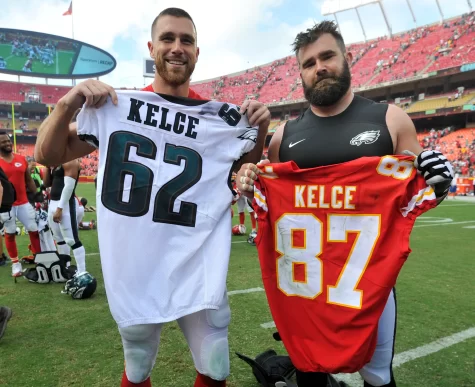 Many football fans are preparing for the upcoming Super Bowl in a number of ways. There is only about a week left to set up any celebrations for the big event and to decide which team you'll place your bets on. For NFL mom Donna Kelce, mother of Jason and Travis Kelce, it isn't just a matter of which team to root for. In her case, she is met with the even trickier decision: which son to root for?
For the first time ever, two brothers are facing off against each other in the Super Bowl. Although this is a setup for the ultimate case of sibling rivalry, it's not as sticky of a situation as it may initially appear. While it stands true that both of her sons will be playing on opposing teams, they will never actually have to face each other on the field because they are both offensive players. Jason Kelce plays center for the Philadelphia Eagles and his brother, Travis Kelce, plays tight end for the Kansas City Chiefs. 
Both brothers played football for the University of Cincinnati until they were drafted into their respective teams in the NFL. They have both taken home Super Bowl rings before, but they have never faced off against each other with such high stakes. (To be more precise, they have each taken home 1 Super Bowl victory on their own). Jason Kelce is older by 2 years and Travis Kelce is slightly younger at 33 years old. The results of this championship game will be the ultimate tell if being younger grants someone an opportunity to rise as the underdog or if being older proves the superiority of seniority.
When Donna was interviewed by NBC's 'Today Show" she shared, "Obviously, there's going to be somebody who goes home heartbroken… They won't have bragging rights at the Thanksgiving table… There isn't anything I could possibly say. Just give them a hug and tell them that I love them. That's it; that's all you can do."
The Kelce brothers are not the only brothers to ever play in the NFL. In fact, there have been quite a few. One notable pair are brothers Peyton Manning (formerly of the Indianapolis Colts and Denver Broncos) and Eli Manning (formerly of the New York Giants). "You knew it was going to happen eventually to somebody because there are so many brothers in the NFL right now playing at a high level," Donna explained. However, as previously mentioned, no other pair has made it all the way. 
Nonetheless, this game will be quite a spectacle. Super Bowl LVII will be joined with a halftime show by Rhianna and will take place on Sunday, February 12th at the State Farm Stadium in Arizona. 
Leave a Comment