Canyon Choir Takes on NYC
Sophia Axiotis and Edited by: Jenna Albaroudi
June 5, 2018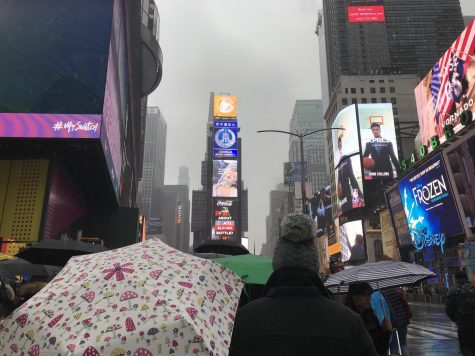 Over the 2018 spring break, Canyon High School Chamber Singers and Advanced Treble Clef Choirs traveled all the way to New York to perform at Carnegie Hall.  There, they worked together through festivals, chilly rain, and workshops with music and were honored to meet with music industry professionals. Overall, the experience was not only gratifying, but meaningful, as both choirs were privileged to debut a song composed by Mrs. May's brother, Jonathan May, at Carnegie, as well as an original called "Get Busy".  Everyone showed growth in different ways, and all of the students shared their experiences and the valuable lessons that they learned along the way.
    Mrs. May served as a wonderful role model, and helped us to enjoy this tour and each other's company.  Brianna Huynh from Chamber Singers said, "Going on this tour gave me insight on how to become an effective leader… because [Mrs. May] is a professional, she solved [each] issue swiftly. [She] has given me inspiration to how I would like to carry myself as an adult." It was a wonderful journey that I (and both choirs) will never forget, mostly because we had such an amazing role model.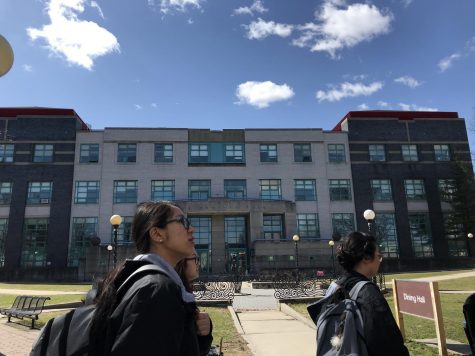 She also helped the group to reflect on their own ability to display gratitude, and to reflect it by genuinely thanking at least three people a day.  There was a small catch: we had to look them in the eyes. It was an easy step that is vital to the process of gratitude, but is often overlooked. Karolina Felts, a Chamber Singer, said "Mrs. May taught me that one "cannot say thank you too much."  Now, I try to thank as many people as possible- something I did not do before this tour." Another student, Advanced Treble Clef singer Alexandra Brondum said "This tour has helped me grow by not only giving me the opportunity to improve more as a singer, but also become more humble and grateful."
    We also met many other choir directors, one of which gave a message that resonated with students and faculty alike.  Advanced Treble and Chambers singer, Gaby Endo, said "He made me realize that there are so many people out there who need somewhere to go when they feel scared or exhausted.  This trip has made me realize that I want to help other people find their safe space…because everyone deserves to have a place that gives them joy and excitement." Gaby, like a majority of the students in the choir department, shares in the great camaraderie and friendship that stems from making impactful music together.  Chamber Singer Caleb Wright said it best by stating that "the music and the experience brought us all together in a way that nothing else ever could."
  We were challenged and we were rewarded: our desire to succeed led to a beautiful performance at Carnegie Hall, and an even more beautiful memory of the people we became close to and what we did together.  Timothy Cunningham simply said "I don't sing only for myself; I sing because I care about all of the people I'm singing with." As I prepare to move on to college, I plan to continue sharing these values that were acquired and solidified over the course of the tour.  I look forward to a future where I will keep music in my life, and also help spread the net and help others feel loved and accepted the same way we do every time we walk into the choir room.