A Star Is Born Movie Review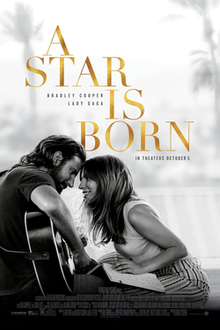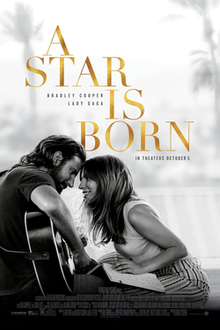 "Maybe it's time to let the old ways die."

     A Star is Born is a musical romantic drama and remake that came out recently on October 5, 2018. It's directed and starred by Bradley Cooper who plays Jackson Maine, an alcoholic country singer, who meets a struggling artist (soon to be the love of his life), Ally.
      If you enjoyed La La Land (an Oscar nominated musical romantic drama released in 2017) then there's no doubt that will you like this film. A Star is Born explores the struggles of addiction and fame as our main character, Jackson Maine, is tirelessly trying to get by in his career with constant shows and tours. As he tries to escape this hectic life through alcohol and drugs he meets Ally, a waitress who sings at the local drag bar on weekends. Inevitably they fall in love and Ally's career takes off. While she becomes as national sensation, Maine is left to face his inner demons and addiction.
     This movie does a phenomenal job representing someone going through addiction without completely demonizing their character. The story pulls at your heartstrings and is beautifully portrayed in the film through dialogue and plot. The cinematography is one of the key components that makes this film really reach at your emotions, as each scene captures the setting and tone seamlessly.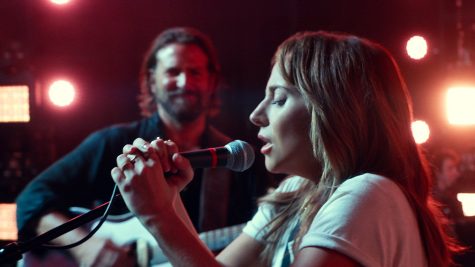 There is a scene in particular where Maine had just gotten in a heated verbal fight with Ally and is waiting to apologize to her in her choreography practice room. You can see Ally dancing in an abstract shadow barely forming her true outline, and close up is Maine processing what he's going to say, not paying attention to what's going on around him. There are a variety of creative shots in this film that pair perfectly with the music to convey each part of this couple's journey. Being a musical, score is everything and this film does an amazing job at cooperating the music to fit the story, adding to what the regular dialogue is missing.
     Given how beautiful of a film this is from plot to score to cinematography and even acting, I give A Star is Born: 4 out of 5 stars.
*Courtesy of Warner Bros Pictures and Google Images