League Champions!! Go Comanche Varsity Soccer.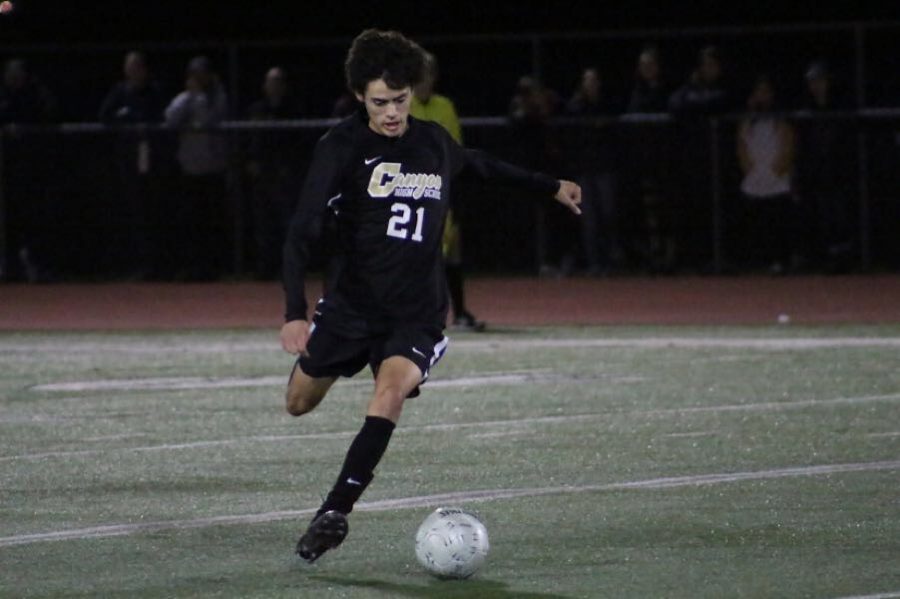 Ben Malo and Edited by Abby Gweon
March 11, 2019
In one of the biggest underdog stories in school history, the Canyon soccer team won league for the first time in 22 years this past season. I had the privilege of being able to meet and interview three of the players from the historic 2018-19 Canyon soccer team: Kyle Thomas, Gavin Lukasca, and Peter Cuevas.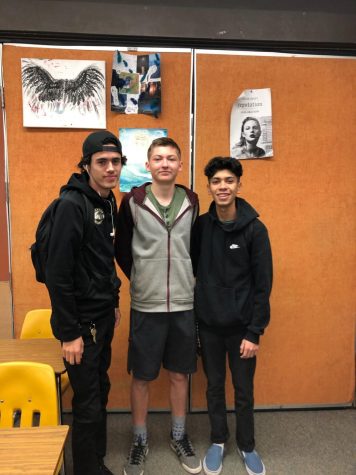 Smoke Signals: First of all, congrats on the league championship and making it to Round 2 of CIF! Take me through what was going through your mind in that last shoot out game.

Kyle: I mean I was pretty nervous cause it was the first time, and we have never made it this far, so I was just hoping to do my best and score.
Gavin: When I was with all the guys in the line at mid-field I was kind of just telling them it doesn't matter if you miss or make it, just be confident no matter what.
Peter: When we were in the huddle I was just like, nervous, but then I thought if we lose we still gotta be proud of what we accomplished, but we won and we were all just super happy.
Smoke Signals: You guys were extremely consistent, not going under .500 the whole year. How do you think you guys kept that consistency?
Gavin: I think it was definitely kudos to our coach, well both coaches (Coach Carlos and Coach Billy), just because they really strived to make us better as a whole team and that's basically what practice is, what warm-ups are, or like a whole new system we've done to help this over .500 record.
Smoke Signals: Maybe as fun as playing in CIF, you guys tied VP in a 1-1 game. How do you think playing VP is different to playing any other team or even playing in CIF?
Kyle: I think playing VP [is different] because it's like our rivals, we should've won though, but yeah we were happy to tie.
Smoke Signals: What about this team do you think was the biggest factor in breaking "the curse"?
Gavin: That's a tough one. Again, I would probably say our coaches and just because our whole team was so connected–we just knew everybody–so I think that was also a big factor and also I think our skill level was above what it's ever been before just because we all play on club teams, and, you know, we played very well this year.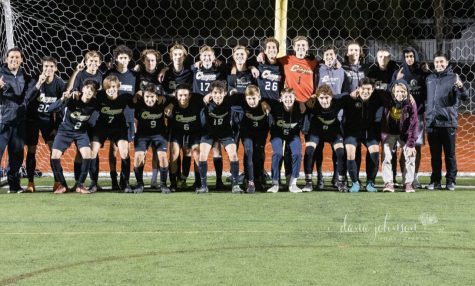 Smoke Signals: How do you think this soccer season has changed your high school experience and what do you think you have taken from this historic season?
Gavin: Yeah, I think it's never gonna change for us just because it is so historical, so I think the school will always remember it–you know, with the big banner in the gym. I think it'll improve everybody for next year too, so hopefully we can win CIF. That'd be awesome.
Peter: It was a fun experience, it definitely made my year–winning. It was just a really fun experience that I'm never going to forget.
Kyle: Yeah, especially because it is my senior year, and that made it special to win [the CIF game] so I really enjoyed that.
Thank you to Kyle, Peter, and Gavin for answering a few questions. Go Comanches!