Canyon Boys Water Polo
    The smell of fresh chlorine on blonde stained hair was in the air last week when the ball was dropped for the first sprint of the year for Canyons men's water polo team.  Canyon's speed and skill in the fourth quarter with impressive offensive performances from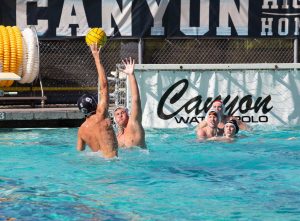 combining for 10 goals as the Comanches  defeated Don Lugo. After the game I was able to interview captain Dalton Gray about water polo and his experience as the captain.
Q1: Being a senior, how has your experience been playing water polo?
Gray: It was fun ya know. It was a great way to get into shape and a great way to meet new people too. Most of my very close friends play water polo with me. It was a great kind of family dynamic going on with the team.
Q2: What does it mean for you, to be the captain of this team.
Gray: It means a lot. I mean it's a big responsibility (because) your looking after a varsity team. It comes with a lot of work but it really does mean a lot because it means the coach sees your skill and how much you mean to the program.
Q3: How does your team pull out wins even with the height difference sometimes?
Gray: Even though we lack in size, we only have a couple of big guys and two of our biggest guys are goalies, we have to play smart. That's how we overcome the height difference. The speed of our game as too, we try to play faster than the other teams and try to knock them off balance.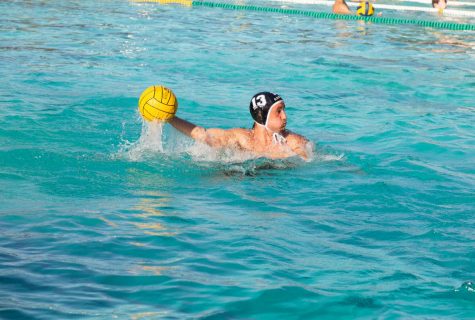 Q4: If you had to describe polo in one word what would it be?
Gray: Oh geez, work. It's a lot of hard work your putting in. Everyday your waking up early before school and sometimes you even have practice before school and after school.
Q5: What's the first memory that comes to mind when you think about your experience with polo?
Gray: That would have to be, freshman year, walking onto the pool deck and just seeing all those seniors walk out of the varsity shed and thinking how crazy awesome they looked, and now just thinking that I am that senior.
Congrats on the win Comanches and I hope there are many to come for the polo team this season!