Tropical Storm Jerry Creates Downpour in Atlantic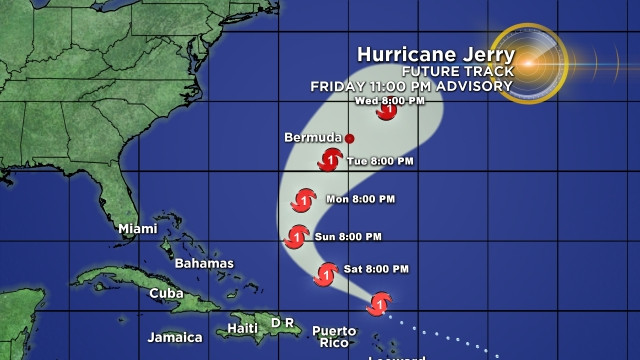 On Thursday, Sept. 19, a tropical storm, Jerry, strengthened into a category one hurricane. As of 11 a.m., Thursday, the winds picked up to 75 mph, passing the 74 mph mark on the category 1 spectrum of hurricanes. This erratic storm has shown some peculiar patterns and has continued to shift between a heavy storm and a category one hurricane throughout the past couple days. Jerry will be the tenth named storm this year and the third active hurricane in the Atlantic right now. The National Hurricane Center has been continuously monitoring Jerry and the other three harsh climates pouring down in the Atlantic. Since its formation, Jerry has showed signs of weakening and it unlikely to have a long lifespan. There have been no reported casualties. 
 Jerry is predicted to pass far east of the Bahamas by Tuesday, which will bring a harsh downpour to these tropics and cause some damage such as roof impairment, falling branches or trees, and power outages that could last several days.This storm has also caused a slight disturbance in the eastern tip of Cuba, creating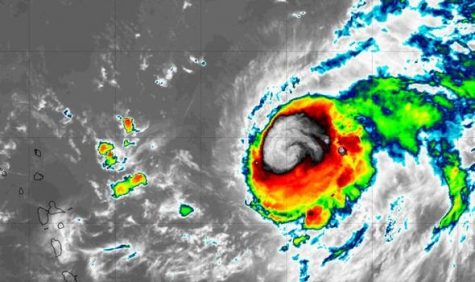 haphazard showers and thunderstorms. Potential mudslides and flooding is expected to happen to the impacted regions as well.
According to the National Hurricane Center on Saturday, Sept. 21, Jerry is about 470 miles from Bermuda with sustained winds of 65 mph. It was reported that the storm will not regain its full strength before it continues to pass through Bermuda on Tuesday. Unfortunately, there may be catastrophic consequences for Bermuda as they already endured Hurricane Humberto, a category three storm, earlier this week. With most properties in Bermuda being made out of stone and mortar, structural damage may be unlikely, yet blustery winds are capable of turning loose items into lethal projectiles.
An AccuWeather Meteorologist, Mary Gilbert said, "Bermuda can experience strong winds, soaking rain and rough surf as a result of Jerry."
Jerry's arrival in Bermuda can delay some of the improvements being brought on after Humbeto, but conditions are said to improve by Wednesday.  
The deadly spikes in hurricanes are likely to subside in late November as that will mark the end of the Atlantic hurricane season.  
https://www.google.com/amp/s/amp.floridatoday.com/amp/2400868001
https://www.google.com/amp/s/www.nytimes.com/2019/09/19/climate/hurricane-storm-humberto-jerry.amp.html