Movie Review: It Chapter 2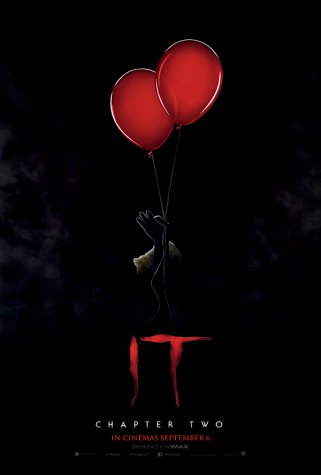 IT Chapter 2 hit theaters 4 weeks ago on September 6th. IT Chapter 2 (box office sales over 400 million) is a thrilling sequel and an exciting conclusion to the 2017's horror/thriller IT (gross over 700 million) based on Stephen King's novel. The movie IT Chapter 2 (which is 3 hours long) was directed by Andres Muschietti and stars the original Loser's Club as their adult versions: Jessica Chastain, Bill Hader, James McAvoy, Jay Ryan, Isaiah Mustafa, James Ransone, Bill Skarsgard, and Andy Bean. This next chapter is suspenseful, bone-chilling, and quite unsettling for those brave enough to sit and watch the return of Pennywise.  
Chapter 1 ended with the defeat of Pennywise the Clown, however he escaped the Loser's Club and vanished into the darkness. In the beginning of Chapter 2, the movie reveals Pennywise's return, and that 27 years have passed. Now the Losers are all grown up and need to defeat Pennywise for good. The Loser's Club return back to Derry, Maine after Pennywise strikes again, and in order to beat him, they must face their deepest fears as they go on a nostalgic journey through their past. 
All in all, IT Chapter 2 wasn't as scary as anticipated. Overall suspense was well built but the movie lacked jump-scares.  Overall, it was a good horror movie and overall rating is an 8/10.