Marathoner Eliud Kipchoge Just Did the Impossible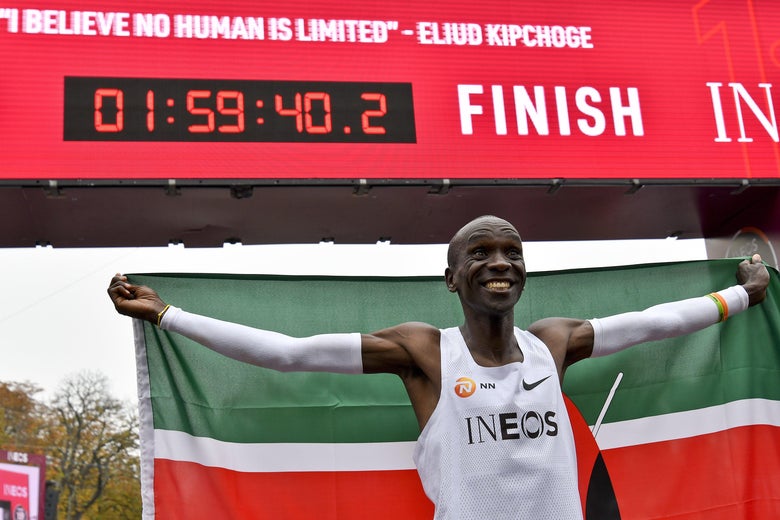 Eliud Kipchoge is a world-famous long-distance runner from Kenya who competes in marathons. On the morning of Oct. 12, 2019, in Vienna, Austria, history was made when Kipchoge did what the world thought was impossible; he broke the two-hour marathon barrier during the INEOS 1:59 Challenge. Kipchoge's official time was 1:59:40 with an average pace of 4:34 for 26.2 miles. It was reported that over 120,000 fans showed up to watch and celebrate this event. Breaking this huge barrier of two hours would have been astonishing by even one second, but Kipchoge managed to run 20 seconds faster than this mark. This milestone will change how the running community perceives the limit of the human body forever. 
Kipchoge is considered the greatest marathon runner in the world. He has won 11 out of the 12 marathons he has run, but it has not always been this way. Kipchoge comes from a track background and competed in the 2004 and 2008 Olympics, winning bronze in silver for the 5000 meters. When Kipchoge did not make the Olympic team in
2012, he made his switch over to road running. 
Kipchoge made huge progress in his marathon times and training which helped pave his journey to breaking two hours. One of his greatest steps included taking part in the Nike Breaking2 project. This big event took place in May, 2017, where Kipchoge and two other world-renowned marathon runners competed and worked together with hopes in breaking this two hour limit. Although unsuccessful, Kipchoge managed to run 2:00:25, which is only one second off per mile from their goal. This helped prove to Kipchoge that breaking two hours is possible and it gained his confidence. 
After the Breaking2 project, Kipchoge made the biggest dent in the world record, during an official race, in 2018 running a  2:01:39.
So, after running 26 seconds from his goal under the best conditions, how did Kipchoge break the impossible two hour mark by 20 seconds, only two years later? A lot has to do with the advances made in runner's nutrition, equipment and training. While training for his marathon, Kipchoge and his team ran up to 140 miles a week in high altitude in Kenya. This was important to his training because at 2,400 meter-altitude, the air density is low and trains the body to adapt to having low oxygen. 
During the "big race" in Vienna, Kipchoge had a specific set of pacers to help guide him throughout his race. These runners were continually changed out, so that everyone running alongside him would have "fresh legs". For many fans who watched the race got to not only enjoy an amazing runner make history, but also experience a gathering of Olympic athletes and rivals come together to support one goal of doing the impossible. 
Some new and advanced technology was used during this event to ensure that everything runs smoothly. Every
single detail of this race was mapped out which caused little doubt in people's minds that this would not be accomplished. All pacers leading Kipchoge followed a pace car. This car was completely electric which allowed no emissions to discomfort the runners. The car had a built-in transponder that made for accuracy pace and distance. The pace-car also projected a laser on the ground in front of the runners, guiding them to their exact pace and where to run.
Even the delivery of water was accounted for and different than the usual table set-up. Bikers were used to ride next to Kipchoge and give him water. They then calculated the amount of water he drank in order to ensure that Kipchoge was completely hydrated throughout the marathon. 
Throughout the course of the marathon, all plans were executed and it went steadily. Kipchoge's slowest mile was only three seconds off of their recommended pace and he was able to hold onto his consistency throughout the duration of the run. At the halfway mark, Kipchoge ran under one hour. When it came down to the last mile in the race, the pacers who were helping split off from Kipchoge and he ran the last mile alone. Kipchoge managed to accelerate at the finish and ran a 4:26 for the remaining mile. As he crossed the finish, he continued running while high-fiving fans and embracing his glory. The crowd roared and Kipchoge's wife ran over to give him a hug. Friends and family crowded around him as his community of helpers who coordinated the race came over to congratulate him for his success. One of Kipchoge's longtime coaches came to the event as well.
Kipchoge did what was said to be impossible. This outstanding time makes people question what the limits are. Is this the fastest a human could ever run or is this just the beginning in the future of running? 
Disclaimer: in both, the Breaking2 project by Nike and the INEOS 1:59 Challenge, the times do not count for the official world-records due to the specific setup of the event which did not conform to the IAAF's requirements.