Student Spotlight: Ryan Pierce
    Ryan Pierce was the athlete of the month and lead Canyon waterpolo in many statistical categories. In his impressive junior campaign Pierce scored a team leading 156 goals, with the second most being 26. Pierce's size is not a problem in the pool, he uses his speed and technique to get off shots from near impossible angles.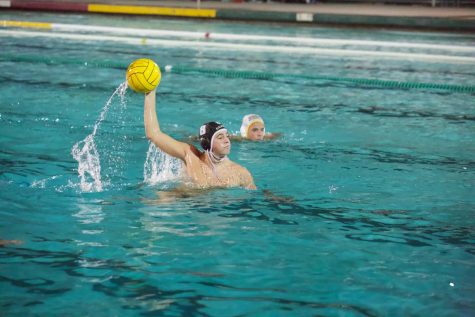 (Smoke Signals): If you had to describe polo in one word, what would it be?
Pierce: Amazing. I just love playing so much. I really like the team atmosphere too.
(Smoke Signals): If you had to listen to one song for the rest of your life, what would it be?
Pierce: Probably the Nation Anthem, because I just love my country.
(Smoke Signals): What is your least favorite part about waterpolo?
Pierce: Definitely getting up at 5am for early morning practice.
(Smoke Signals): The polo team was undersized but managed to make it to the second round of CIF, how does the team overcome size difference?
Pierce: Our team has a lot of speed, and we are really scrappy. We use that to get around the bigger guys that try to out muscle us.
(Smoke Signals): If you found out that there was no school tomorrow, what would you spend the day doing?
Pierce: I'd probably go to the beach.
(Smoke Signals):  Besides polo, what's your favorite sport and why?
Pierce: Football because it's super fun to watch and I'm in a fantasy football league. I just love watching the NFL.
        Pierce's incredible junior season lead him to be a All-League first team selection. Best of luck to Ryan and the Comanche's waterpolo team next year. Go Comanches!