New Year's Six Games
     The college football season is coming to a close, the biggest games of the season have been set. These are the picks for the New Year's Six (not including the playoff).
Cotton Bowl: Memphis vs Penn State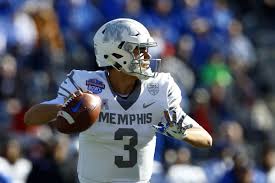 The biggest question for this game is how will Memphis fair without their head coach Mike Norvell, who will not coach and head to Florida. Memphis has a high-powered offense and over-performed incredibly. Memphis QB Brady White has played well and pulled out some big wins against 21 Cincinnati and 23 Navy, I believe if they had their coach they'd have a real chance at this game. On the other side of the ball is the Nittany Lions. Penn State has under-preformed this year, and quite frankly they don't even want to be there. With all that said, there is an undeniable talent mismatch at every position. People forget that this team was 4 in the country at one point, and the first quarter might go to Memphis, but after that,  Memphis will get overpowered.  
Penn State 28 Memphis 14
Orange Bowl: Florida vs Virginia Tech
        Florida is another wildly talented team that has slightly under-performed, but also aren't mad about the outcome of their season. The only reason this team isn't in the playoff is because of their loss to the Georgia Bulldogs. Trisk is one of the better quarterbacks in the country and their defense is very fast and very good. I am not a believer in Va Tech. Virginia is, in my opinion, a decent team in a bad conference. The ACC is worse than the PAC-12, and that's saying something. This will get ugly fast. 
Florida 35  Virginia Tech 14
Rose Bowl: Oregon vs Wisconsin 
       This game will be the best out of all the bowl games on New Years. It's a clash of two polar opposite play styles. Oregon, a fast and flashy team with colorful uniforms and fun to watch offensive schemes. Wisconsin, the old school ground and pound offense with star running back Johnathan Taylor and one of the top offensive lines in football.  In order for Oregon to win they have to convert on the chances they get because Wisconsin will control the clock and limit this high-powered offense's time on the field. Both teams are great at what they do but I like QB Justin Herbert to put a lot of pressure on a weak Wisconsin secondary.                        
Oregon:17 Wisconsin:14
Sugar Bowl: Georgia vs Baylor
        Both of these teams play classic blue collar football. Georgia's defense (with the exception of their game against LSU) is outstanding and will make it tough for Baylor to score for most of the game with their incredible speed. Baylor's offense is second to none. Expect Baylor's sub-par defense to look good against a weapon-devout Bulldogs offense. Jake Fromm hasn't had the breakout year we expected and this team feels deflated after being blown out in the SEC championship. This Georgia team had bigger goals than the sugar bowl, and Baylor is going to leave their hearts out on the field. I'll take the underdog Bears.
        Baylor:17  Georgia:14