NCAA football playoff
The College Football playoff games have arrived, and here are two great games to watch. 
Peach Bowl: Oklahoma vs LSU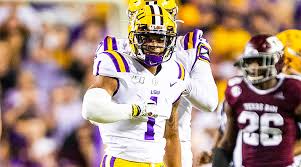 It is the same story every year. Oklahoma always has extreme talent on offense, but lacks any sort of defensive liability. Head Coach Lincoln Riley is one of the best offensive coaches NCAA football has ever seen that's schemes are second to none. Jalen Hurts is having a revenge tour after losing his starting spot to Tua Togavoloa at Bama, and he puts up A LOT of points. His favorite target, Ceedee Lamb, is explosive and has big play ability ever time he is on the field. If the past two years tells us anything, a remarkable QB with a chip on his shoulder and an incredible offense, doesn't make up for poor defense. LSU is just too good on both sides of the ball. Although Georgia doesn't have the weapons Oklahoma does, a team of that caliber just doesn't get heald to just 10 points. Not to mention the Joe Burrow lead offense dismantled the Bulldogs top defense with what seemed like half-effort. LSU has dominated the SEC and is undefeated so far this season. The SEC champions look like they are going to roll over the Sooners onto the championship.
LSU: 35     Oklahoma: 21
Fiesta Bowl: Ohio State vs Clemson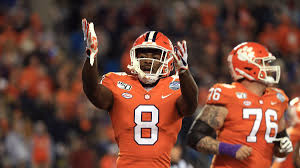 Both of these teams have genuinely impressive rosters stacked with NFL talent from the top down. Clemson is an interesting team because they are hard to assess. The Tigers are a perennial powerhouse that you can never count out, but they play in the ACC. The weak conference produced only one other top 25 team, a sub-par Virginia team ranked at 24. Any other Dabo Swinney football team is hard to bet against, but there has been a big change in Clemson football. They went from a tough run team to a high flying act under Trevor Lawrence. Lawrence has undeniable talent, but he plays like an 18 year old. He is unpredictable and has bad games that cause a loss to unranked Syracuse and a close win against unranked NC State. On the other hand, Ohio State has been nothing short of incredible. Justin Fields is a top-5 QB in the nation right now, and J.K. Dobbins has been stuffing the stat sheet on the ground. Urban Meyer has also compiled the best defense he's ever coached headed by the best defensive player in college, Chase Young. Ohio State has run over some great teams, and is a much safer bet. That being said, never bet against a Dabo Swinney team come New Years.
Clemson: 21   Ohio State:17