Bright Star Auditions
  On Tuesday, Dec. 18th, students gathered in the hallway outside the 100's wing to prepare for their auditions for RSE's spring musical: Bright Star.
  Bright Star, written by the famous comedian Steve Martin, is based off a real event in the 1920's. It follows Alice Murphy, an editor in North Carolina, and her search for her baby son who was taken away from her at birth. The show flips between the 1920's and 1940's, also following Billy, a young writer who just returned from WWII and who dreams of being published. The show's gorgeous bluegrass songs float around a story brimming with nostalgia.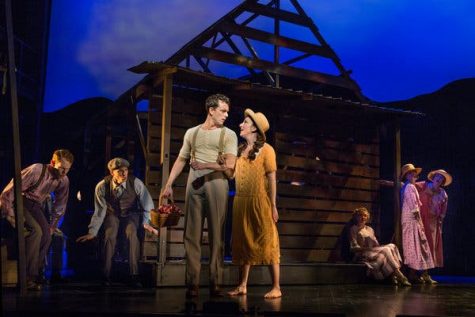 The tension in the air was palpable as students got called up one-by-one to sing in front of Director Miguel Cardenas. Students were pacing the halls, with vocal warm-ups and audition songs echoing off the lockers. The audition attracted students from all different areas of the arts here at Canyon. The callback list included students from the Company, Chambers Choir, and even Film Ed. "I auditioned for Bright Star because I enjoy being a part of the big family that the cast becomes," said Fey Morey, a senior in the drama program. 
  People buzzed as sophomore and stage manager Amanda Blunt carried out callback sheets after each block of auditions. The saga for these musical hopefuls is not yet over, as the second round of auditions, callbacks, stars that following Thursday. Choir President and senior Bryce Rivera was pumped for his audition. "My experience with the spring musical last year was so full of positivity. I can't wait for this one!"
  Make sure to come and see Bright Star, playing at El Rancho from March 18-21st!