CHS Winter Choir Concert review
 It's the Holiday season and you know what this means, Canyon's winter choir concert. The winter concert is one of the most anticipated shows out of the whole year at Canyon. Some people even look forward to it and come as a yearly tradition to fulfill their holiday spirit. 
Canyon's Choir had their very first choir concert of the year this Wednesday and Thursday in the Cafeteria. These students have been working hard since the beginning of the school year to learn Christmas music. Four choirs performed, all ranging from beginner to advanced. Soloists from different choirs went up to perform their own favorite Christmas and holiday songs. 
 The winter concert was Treble Clef and Bass clefs first concert of the year. Both of the choirs are beginner choirs so many of the students were very nervous for their very first concert. Treble clef and bass clef both did songs in Spanish and a Christmas song. They also conjoined to create a concert choir and did one song together "Under Winter Moon." 
Advanced Treble had a very inspiring performance with a four song set. Two songs were in two languages Czech and Latin. Each song was sung with so much emotion and all of these students worked very hard with extra rehearsals outside of class to perform these songs and make them the best they can be. Advanced Treble performed these songs earlier this year in November at the Troy High School Advanced treble Festival. 
Chamber singers closed the show with a three song set featuring "A Red, Red Rose" which is a love song following a couples relationship. They finished with the classic "Carol of the bells."  The Chamber singers are known for their version of the Burl Ives song "Have a Holly Jolly Christmas" shortened to "Holly Jolly." Students look forward to singing that sing every Holiday season.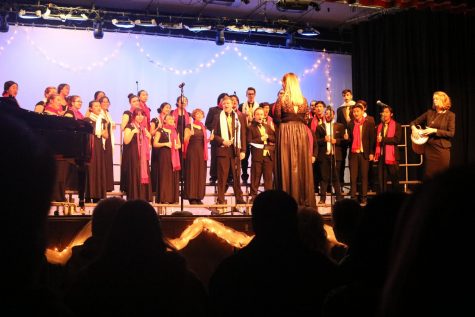 All the choirs came on stage and joined together to sing G.F Handel's 44th movement of 53 from his work The Messiah, "Hallelujah." All the Alumni in attendance joined on stage for this song. The powerful sound coming from all four choirs echoed through the Canyon Cafeteria. The choirs then went to the floor surrounding the audience and held hands to sing "Peace, Peace" while the audience joined in with the hymn "Silent Night." 
2020 Choir Schedule:
Tues. March 3 Spring Concert 

Sun. March 29- Tues. Apr. 7 Advance choir Ireland Tour with Villa Park High school 

Thurs. May 21 & Fri. May 22 Pop Showcase