Top 4 Most Underrated NHL Players
  The NHL (National Hockey League) season is well under way for the 2019-2020 season. The All Stars game in St. Louis on Jan. 25 brought all the focus on the well-known players throughout the NHL. Here is a list of the some underrated NHL players of the current season. 
Ilya Samsonov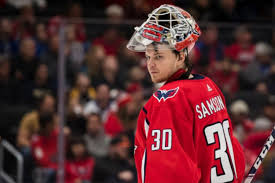 Samsonov is a goalie from Russia on the Washington Capitals. At just 22 years old, he has created quite a name for himself being included in the top rookie goalies of the current season. According to the NHL website, he leads the total number of wins (15) in NHL rookie goalies. Braden Holtby, the five time all-star, is the primary goalie for the Capitals; however, the team is lucky to have two goalies they can always count on. Caps head coach, Todd Reirden, frequently relies on Samsonov even against top teams such as Tampa Bay Lightning.

Aleksander Barkov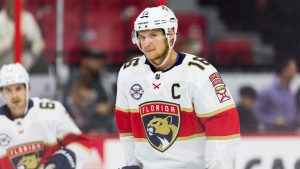 Barkov is a center from Finland on the Florida Panthers. In the 2013 NHL draft, he was chosen as second overall by the Panthers. Currently, he serves as captain and has been since 2018. He was recently voted by NHL Player Polls as the most underrated in the league. In 2019, he was awarded with the Lady Byng Memorial Trophy, which is a player with best sportsmanship and a "high standard of playing ability". He is said to be an all-around player playing as a center, taking on the O-zone area (center of ice), and even taking face-offs.
Blake Wheeler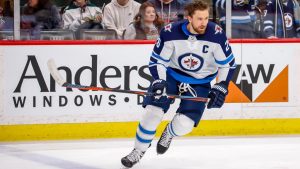 Wheeler is a center from Minnesota on the Winnipeg Jets. He has been named captain of the team since the 2016-2017 season. He is definitely another versatile player in the NHL, like Barkov. Typically playing as a right-winger, he changed to the center position this season as Bryan Little is out with an injury to his eardrums. His adaptability to change is incredibly efficient compared to others as he has had two back-to-back 91 point seasons for the 2017-2018 and 2018-2019 season.
Ryan Nugent-Hopkins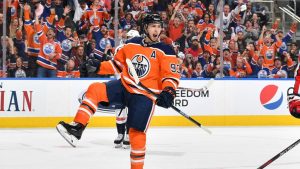 Nugent-Hopkins is a center from Canada on the Edmonton Oilers. He was picked first overall in the 2011 entry draft by the Oilers. It is easy to say that some players go overlooked in this team when it contains the league's best players, such as Connor McDavid and Milan Lucic. With the Oilers having a mediocre league standing (14th), they need improvement through new offensive plays, but Nugent-Hopkins is definitely not one of the problems. Only about nine years playing in the NHL, he already has four 50+ point seasons.
https://www.hockeydb.com/ihdb/draft/nhl2013e.html
https://www.nhl.com/news/nhl-lady-byng-memorial-trophy-winners-complete-list/c-287910994
http://www.espn.com/nhl/statistics