What Happened to the Coronavirus Cruise Ship?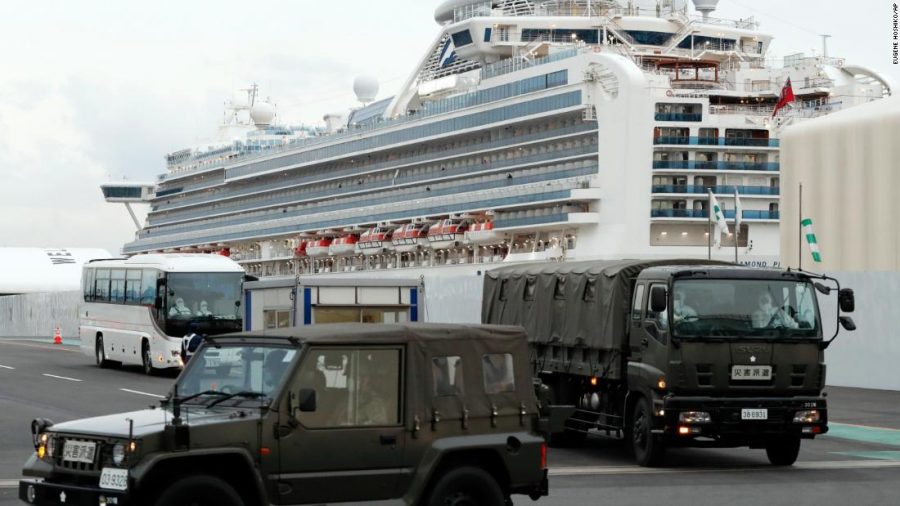 On Wednesday, February 19th, over 1,000 passengers on the Diamond Princess cruise ship in Japan, who were not infected, were released from their quarantine. For the past two weeks, 3,700 passengers had been trapped on the ship after a passenger had tested positive for the deadly coronavirus. As of February 22nd, there have been a reported 634 infections and two deaths, according to New York Times article, "How a Coronavirus Ravaged a Cruise Ship". The cruise ship was the largest concentration of coronavirus cases outside China, meriting its own category in the data compiled by the World Health Organization. 
  Passengers on board the Diamond Princess reported cushy, yet medically unsafe quarantine conditions. For the two weeks of the quarantine, passengers have been mostly confined to their cabins, while staff wearing masks have delivered food to their rooms. The ship's crew members, meanwhile, have reportedly continued to share bathrooms and eat together, which has undermined the effectiveness of the quarantine conditions.
  Critics worldwide are questioning the integrity of the quarantine, which resulted in the large number of positive infections reported. Foreign governments have intervened to get their citizens off of the ship. According to The Guardian article, "Health experts question coronavirus quarantine measures on cruise ship", on Tuesday, February 18th, the UK government announced that it would be evacuating the 74 British passengers on board the Diamond Princess. On the 17th, the United States government evacuated 340 of the 380 US citizens on board the cruise ship back to the states. According to the Guardian article, "Americans evacuated from coronavirus-hit cruise ship return to US", all evacuated passengers are currently serving an additional 2-week quarantine period after arriving back in the states to ensure the virus does not spread further. 
  Some passengers actually refused early evacuation from the US government due to the additional quarantine time. They were willing to wait out the rest of the Japanese quarantine on board the ship, instead of spending a total of four weeks in quarantine if they returned to America. Additionally, according to the same Guardian article, the state department announced later that 14 of the evacuees confirmed they had the virus but were allowed to board the flight because they did not have symptoms. They were reportedly being isolated from other passengers on the flight, but this fueled passenger's fears that they suffered additional exposure to coronavirus due to the flight. 
https://www.theguardian.com/world/2020/feb/18/global-health-experts-question-cruise-ship-coronavirus-quarantine-measures
https://www.theguardian.com/world/2020/feb/17/americans-evacuated-from-coronavirus-hit-cruise-ship-return-to-us
https://www.wsj.com/articles/coronavirus-cruise-quarantine-draws-criticism-after-more-passengers-infected-11582039428
https://www.nytimes.com/2020/02/22/world/asia/coronavirus-japan-cruise-ship.html