Napa Valley Private Mansion Temporarily Converted into 'Hotella Nutella' as a Grand Prize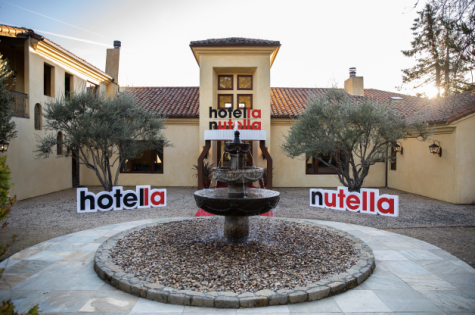 On Jan. 11, 16 people had the priveledge of staying at "Hotella Nutella" for three days and two nights. This was the grand prize for a competition where contestants sent in videos saying how much they love Nutella.
  There was an initial 100-500 people that sent in videos. Shahrukh Mehta said that it was "exciting… the amount of passion and excitement" and made it "really difficult to choose" the winners.
  Although media were not able to ask the winners directly (the media tour occurred the day prior to the guests' weekend event), they did see clips of some of the video submissions from the winners of the contest.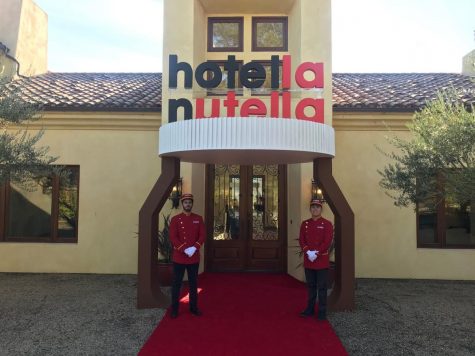 "In one video, one contest winner wears a handmade, life-size Nutella jar costume while kissing a framed photo of Nutella," said Napa Valley Register article 'Hotella Nutella' hosts super fans in Napa Valley by Jennifer Huffman. "A second contest winner shared a video of her boyfriend's marriage proposal while sitting next to a cake shaped like a Nutella jar."
  There was a Nutella jar-shaped sign (in front of the hotel) and reception desk, along with numerous decorations also shaped like Nutella jars, not to mention hundreds of actual Nutella jars placed throughout on practically every available flat surface.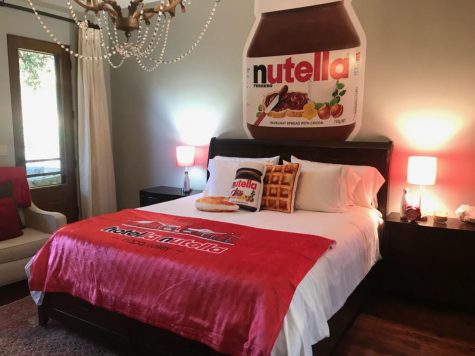 But that wasn't the only Nutella-themed decor. They also filled the bedrooms with Nutella, waffle, and croissant pillows and blankets, and each suite had personalized nutella jars, and a red toaster and bread box.
  A large, lighted Nutella sign was featured in the kitchen along with, of course, Nutella. There were also many pool toys and towels that were all Nutella themed.
  From big things like the giant Nutella jar-shaped sign in front of the hotel, to functional take aways for the guests like Nutella cookbooks, to small details like a Nutella key chain with their room keys and Nutella logos on the toilet paper, this place was jam packed with Nutella-everything. Mehta was right in saying, "we have enough Nutella here to make even the most passionate fan happy."
https://napavalleyregister.com/news/local/hotella-nutella-hosts-super-fans-in-napa-valley/article_b823ecf3-19a9-57d0-910a-d386c399ce63.html