The Owner of Jelly Belly is Doing a Willy Wonka-Like Scavenger Hunt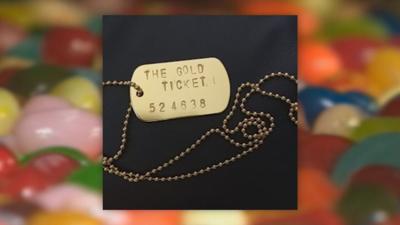 David Klein, founder of Jelly Belly and current operator of Candyman Kitchens, is planning a Willy Wonka-like scavenger hunt, without the Oompa Loompas and spoiled kids. He is giving away one of the candy factories, along with $5,000. 
There is a $49.99 fee for entering this contest. Only 1,000 tickets are being sold per state, and anyone who buys one is able to win one of his candy factories and $5,000. 50 of the contestants will win $5,000. However, only one person per state will find the golden dog tag (per state), based on the riddle provided. 
Participants still have many questions. The details are vague on when they will receive the riddle, where the tag will be located, and the condition of the factory. Regardless of these unanswered questions, participants are willing to take a gamble, and pay to win the golden tag and the assets that come with it. 
Once the winner finds the tag, they must email [email protected] with the location it was found. The winner gets an additional $5,000 as well as the candy factory. The candy factory comes with full ownership of the building and operations inside, and they are able to create their own candy.
https://www.cnn.com/2020/09/08/us/candy-factory-treasure-hunt-jelly-belly-trnd/index.html
https://www.wdrb.com/news/willy-wonka-style-treasure-hunt-launched-by-jelly-belly/article_89b3e584-f206-11ea-aa9f-337b51910e27.html