Surf's Up in the OC
In a crazy turn of luck for surfers this year, who have been banned from the beaches from time to time through the pandemic, Orange County had one of the best swells in the last 20 years. Over the past few weeks, surfers from all over the country have come to famous Orange County surf spots such as the South-side of the pier in Huntington and the Newport jetties.  The famous Wedge in Newport got up to a whopping 20 feet tall. One of the most shocking parts of this swell was that it wasn't just the usual spots that got to four-seven feet, it was the usually flat areas that got hit the absolute hardest. I experienced these absurd waves first hand over winter break.
My family and I rented a beach house to stay in so we could get out of the house . The house was on 14th street in Newport; a cool place near a blacktop with basketball courts and a five minute walk to restaurants ranging from Taco Bell to gourmet burgers. The only problem with the location was that this particular house was located in a area where the waves are flat 360 days a year. In order to confirm surf reports, the morning before we left, I drove to Newport to see if the area was at all surfable, and it wasn't. The water looked flat enough to walk on.
So the next morning when we reached the beach house, it was decided that I would drive to 56th street. That was until I looked outside and at 10 AM (around when waves should be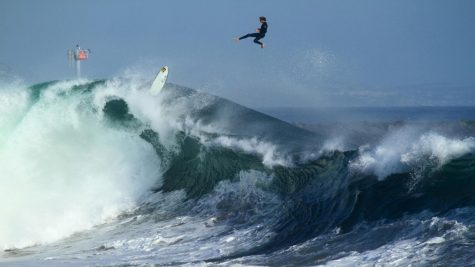 dying down and the morning surfers start to leave) the waves looked to be a foot overhead. I was staring at a perfect wave, 6-7 feet tall and perfect shape. It was the type of shape that you could ride for a whole minute. I genuinely thought I was sleeping, looking at the semi-pro surfers carving some of the best waves I've seen at a place that today is 0.5-1 feet tall. A historically laughable wave had become the wave anyone would drive 2 hours to surf. This continued for the next couple days and as I watched the surf report; it seemed that this was not an independent occurrence…everywhere you went the waves were at least 4 feet tall.
Even today, although it has cooled down, the Santa Ana winds are pushing the waves towards the shore, creating some great waves all across Orange County. Currently 56th St is about 4 feet high with good shape coming across and Huntington's south side is 5ft high. With that being said, I don't think that I will ever see the insane surf that I witnessed over winter break.