Getting the COVID-19 Vaccine-Part 1
On Feb. 8, I went to get my first round of the Pfizer COVID-19 vaccine. Here you will find a detailed explanation of my experience getting vaccinated for COVID-19 in Southern California as a 16-year-old and maybe get some information for when it is your turn to get the vaccine.
Right now, most of the California residents who have had access to receive the vaccine are those who are health care workers, long-term care residents, and people aged 65 and older. The reason I was able to get the vaccine was that I am an intern at a non-profit organization called Children of War Foundation that distributes medical aid both locally and internationally to communities that need it. This made me eligible to get the vaccine as a health care worker so I could safely deliver aid during this pandemic.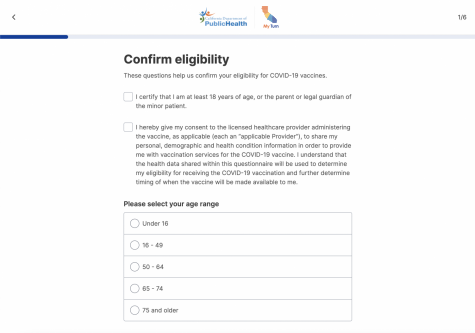 After receiving a digital letter from my organization, including my full name, reasons I needed the vaccine, and the organization's official non-profit ID number, I went online to https://myturn.ca.gov/ on Feb. 7 to register to get my vaccine. On this website, I entered information including my age range and the business or industry I worked in, where I checked off "emergency services". After filling out all of the information, which was easy to access and took little time, I was scheduled to go to get my first vaccine at 4:45 PM the next day at the vaccination center at Cal Poly in Pomona. It also automatically booked my second vaccine on March 1, exactly 3 weeks later. After confirming this date and time, I received an email with a QR code and my appointment information.
The next day, my Dad fired up Google Maps and drove me down to Cal Poly in Pomona. There, we were greeted by a worker in a yellow vest who directed us to the parking lot where we would be guided into the vaccination site. At the entrance to the parking lot, which had both workers and police officers guarding it, each car was stopped and we were asked if I had an appointment for the vaccine along with what time the appointment was. We were a little late from traffic, but there was no issue and they let us drive in and park outside.
From there, we walked into a parking structure where the vaccination site was set up. Obviously, I was not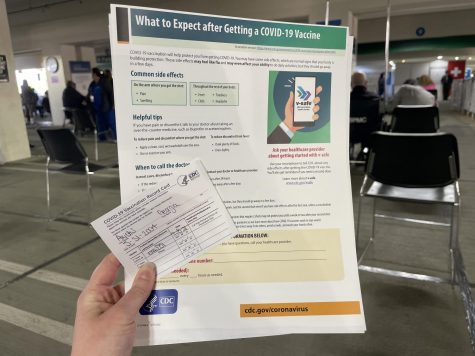 over 65 years of age so they asked at the entrance if I was a health care worker, so I said yes. We were then directed to a station where my QR code and appointment were confirmed along with my ID (Although I had my school ID, I decided to use my passport ID card for this). After this, we were directed to another station where my letter for getting the vaccine was checked, and the only thing they needed to see on this letter was my full name, matching my ID. This was the final check, so I got a green sticker on my shirt and was moved to wait to go to a vaccination booth.
I only waited about a minute or two before I was seated at a booth. The two workers I was with were extremely kind. They asked for my ID as one entered my information on a computer and asked me the general questions they had to ask everyone, including if I had ever tested positive for COVID-19 and if I had ever had an allergic reaction to a vaccination. The second worker wrote my information on a card, which would be for my second vaccination on March 1st. I was a little nervous because I had heard something about the COVID vaccine needle being bigger, and I usually am uncomfortable with normal needles for vaccines. As I was sitting there, though, I looked at the vaccine on the table and gave a sigh of relief. It looked like nothing. It was then my turn, and I barely felt it. It was quick and didn't hurt at all.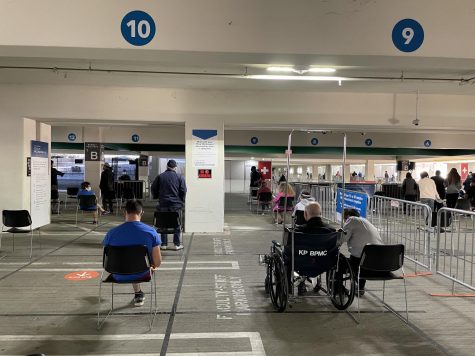 I was then given a card with my information for my second shot as well as a CDC pamphlet regarding possible symptoms from the vaccine and I got a blue sticker showing I had the vaccine and what time I received it. To ensure I didn't have any bad reactions to the shot, I was directed to a seating area where I would wait 15 minutes. Here, all of the chairs were at least 6-feet-apart and there were many more chairs than there were people. Workers walked around, checking the times on everyone's stickers. After 15 minutes, I was free to go and my Dad drove me home.
That evening, my left arm (where I got the shot) did not hurt at all and I was even able to do my regular workout, including push-ups, with no interference. However, that night before I went to bed I began to feel some slight pain there. The next morning, my arm hurt a lot more than it did the night before. I also felt a little more tired than usual, so I missed school and slept in. That day, I felt a little worn down and almost some head pressure that night, but the following day, any symptoms I had were completely gone and my arm felt a lot better.
Overall, the experience of getting the COVID vaccine was amazing. The site was extremely organized and not packed at all, all of the workers were very kind, and the shot itself didn't even hurt. Even the symptoms I got the next day were extremely mild and not much of an issue. Now, I just wait until March 1 for my last round of the vaccination.
Sources:
https://myturn.ca.gov/
https://ktla.com/news/california/new-california-data-that-breaks-down-covid-19-vaccine-distribution-shows-disparities/
View Comments (1)