Weeknd Halftime Show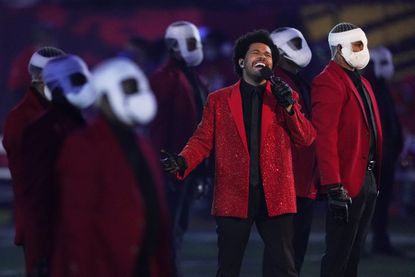 The Weeknd, also known as Abel Tesfaye, performed songs from his latest album, After Hours, at the 55th Super Bowl halftime show on February 7th. The setlist included "Starboy", "The Hills", "Can't Feel My Face", "I Feel It Coming", "Save Your Tears", "Earned It", "House of Balloons/Glass Table Girls", and "Blinding Lights".
Abel spent approximately $7 million for this performance. He had arranged for background dancers to come out during the "Can't Feel My Face" performance. The dancers were wearing red suits and bandages as the concept of the album is taking responsibility for your actions and toxic traits. The red suit and medical wrap around their heads symbolized the pain from their actions and toxic traits.
Along with the deep concept of the album being included in the performance, the Weeknd became a viral meme for the camerawork he did during "Can't Feel My Face".
Here are some of the best submissions:
https://twitter.com/theychosekayla/status/1358603652487856130
https://twitter.com/MaggieRoth_/status/1358605659374292994
https://twitter.com/skinclasshero/status/1358593220817653760