What happened to Tiger Woods?
Eldrick Tont Woods is a professional golfer and entrepreneur. He started playing golf at a very young age, and quickly excelled, starring on a television program and shooting a 48 over nine holes at age three. At the age of 15, he became the youngest winner of the U.S. Junior Amateur Championship in 1991.
He enrolled at Stanford University in 1994 and won the collegiate title in 1996. He ended up claiming his third U.S. Amateur Title, leaving college and turning professional at the age of 20 on August 29, 1996. Woods played as a pro in eight Producers Guild of America events in 1996, winning two titles and was named the PGA Tour's Rookie of the Year. By the end of 1997, he had won three PGA Tour events in addition to his first major, the 1997 Masters in which he won. He was the top-ranked golfer in the world from August 1999 to September 2004 and won 13 of golf's major championships. In April 2019, he won the Masters for his 15th major title and fifth win at Augusta National, later winning the Zozo Championship for his 82nd PGA Tour victory.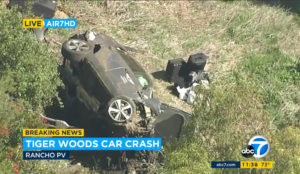 Recently Woods was seriously injured in a car accident on February 23rd  just after 10 a.m. near the border of Rolling Hills Estates and Rancho Palos Verdes, 30 miles south of downtown Los Angeles. Woods was driving shortly after 7 a.m. PT when the SUV he was using crossed a median and went across two lanes of road before hitting a curb, hitting a tree and landing on its side off the roadway in the brush. Woods' vehicle hit the center divider, destroyed the "Welcome to Rolling Hills Estates" sign and rolled over several times. After crossing the two southbound lanes, the SUV hit a curb and a tree before settling several hundred feet from the road. His vehicle narrowly missed hitting a utility pole.
At the age of 45, Woods went through several hours of emergency surgery to fix his "significant orthopaedic injuries" to his lower right leg and ankle. Woods is currently awake and recovering, but many say that he will most likely have to go through a lot of therapy for his leg and won't be able to play golf for the rest of the year. On March 5 Woods told deputies at the hospital that he did not remember the crash or even driving the vehicle. His statement was included in an affidavit by Los Angeles County sheriff's Deputy Johann Schloegl. The affidavit supported the claim of probable cause and also stated in the was the first person to reach the SUV after the crash. The resident told deputies that Woods was unconscious in the vehicle and didn't respond to his questions. Woods was moved to Cedars-Sinai Medical Center and received follow-up procedures on his injuries The procedures were successful, and he is now recovering and in good condition
Sources:
www.britannica.com/biography/Tiger-Woods
www.tigerwoods.com/biography
www.espn.com/golf/story
Leave a Comment