Travel Restrictions Lifted for Vaccinated UK and EU Passengers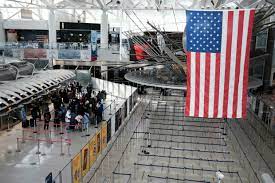 Travel restrictions for passengers from the UK and most European Union countries will be eased beginning in early November, the Biden administration announced. Passengers will be required to show proof of vaccination and have a negative test within one day before entering the United States. For unvaccinated passengers attempting to enter the United States they will need to test negative for the coronavirus within one day before boarding a flight to the United States. 
        UK Prime Minister Boris Johnson on Monday, via Twitter, called the announcement a "fantastic boost for business and trade" stating how "delighted" he was for the easing of the travel ban. This announcement rejuvenates a depressed travel industry and recovers millions of travel-related jobs that were lost to the pandemic.  
  Earlier in the spring, British and European administrators had lifted a travel ban imposed upon the United States; the White House never returned the favor. However with vaccine data overwhelmingly proving effective, the White House has decided to change course. "Vaccines continue to show that they're highly effective, including against the delta variant, and the new system allows us to implement strict protocols to prevent the spread of COVID-19," said White House official Jeff Zients Monday. 
          With the relaxing of restrictions, travel bookings have surged as of late with Lufthansa, Germany's largest airline carrier, revealing that flight bookings have risen 40%. 
Sources:
https://www.nytimes.com/2021/09/20/us/politics/us-travel-banhttps://www.usatoday.com/story/travel/news/2021/09/20/us-international-travel-restrictions-travel-banhttps://www.cnbc.com/2021/09/20/us-to-ease-travel-restrictions-for-foreign-visitors-who-are-vaccinated-against-covidhttps://www.schengenvisainfo.com/news/eu-us-flight-bookings-increase-by-40-after-us-announcement-to-remove-travel-ban-lufthansa-reveals