Hawaii Declares State of Emergency Due to "Catastrophic Flooding"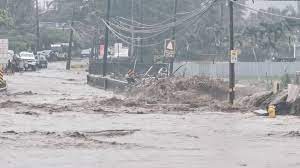 On Monday, Hawaii Governor David Ige declared a state of emergency due to "catastrophic flooding" expected by the National Weather Service in Honolulu. "Expect widespread heavy rainfall with this system, especially under the large heavy rain band, capable of producing catastrophic flooding, and strong gusty southerly winds through Wednesday," the National Weather Service in Honolulu announced. With such heavy rainfall forecasted, areas unaccustomed to rainfall are being warned to expect "numerous landslides" that could cause devastating damage. 
In preparation for the upcoming storm, Hawaii Governor David Ige urged Hawaiians to "make sure to have an emergency plan in place and supplies ready should you need to move away from rising water." Several shelters have been set up across the Hawaiian Islands for residents affected by the severe weather. 
Numerous schools across the state of Hawaii have been closed "due to the threat of imminent disaster" caused by the storm. Several power outages were reported across the Hawaiian Islands caused by the severe weather conditions which has left thousands in need of assistance.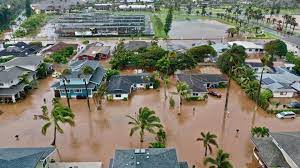 Over the weekend, the National Weather Service of Honolulu issued a blizzard warning for residents on Hawaii's Big Island. Though not common, snow is not rare for Hawaii's highest peak, Mauna Kea, which last saw snowfall in 2018. The National Weather Service also added that the severe weather conditions have created "dangerous driving conditions due to near zero visibility." The severe weather has also caused debris to pile up on roads, making it very difficult for Hawaiians to go about their daily lives. 
On Tuesday, the National Weather Service issued a statement declaring the "heavy rain threat has clearly ended and nothing more than isolated to scattered showers are now expected." The storm system is now expected to move out of Hawaii on Wednesday allowing for emergency relief to be brought to those in need of assistance.