Canyon's New STEM Building: What You Need to Know!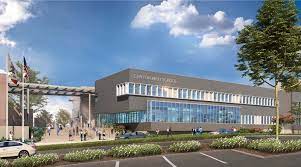 The new STEM building is finally open, so here's what you need to know. It is part of Phase 1 and had a budget of around 69 million dollars (of the total 73 million that was given through the passing of Measure S). The building is a whopping 6900 square feet with two floors (and yes, there is an elevator). Canyon's STEM center is home to 24 classrooms, 12 science and 12 standard. Possibly the most impressive of all the rooms are the chemistry labs, with the largest being 2200 square feet and can seat over 40 individual students. All lights throughout are motion-sensored, including the lights in one of the six all gender bathrooms (there is also gender specific bathrooms downstairs, giving students the option of where they would like to go). 
So, what's next? Well, to many students' great excitement, the parking lot will open up once again. This will add 100 spaces to the lot. There is also work on a new entrance for the performing arts building, expected to be completed sometime in February. There is also construction on a large, central staircase that should also be done by the end of February. Administration has been moved to the bottom floor of the new building, and the old administrative building is going to be turned into a mall style cafeteria (the date of construction is TBD) Teachers that are currently in portables will be moving to the old science and math classrooms after they are repurposed into standard classrooms.