Stolen-car chase ends in crash on Imperial Hwy near Canyon High School
A long car chase and an unfortunate car crash happened near Canyon High School this Sunday.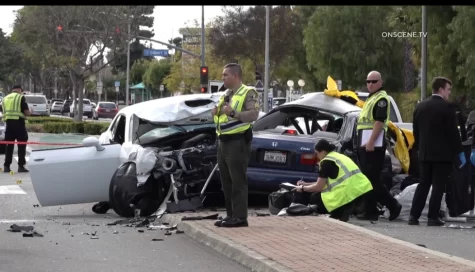 The latest news, a stolen car chase with three young teens was going on just earlier today, August 16th, 2022, and ended in a terrible car crash near Canyon High School. Fortunately to our amazement, no major injuries were reported but this was still a very dangerous occurrence. This chase started just by Cypress High School, with two boys and a girl – high school seniors – who stole the car from a nearby bakery. Reporters are still not quite sure why they did this, and what was the motive. One of the teens, Jacob Starkin explained,"We were just trying to have some fun, you know man? High school is supposed to be crazy and exciting." In this situation, fun didn't equate to the endangerment of lives. The chase came to end near Canes, and Canyon High, when there happened to be a truck on the slim road. The teens tried to squeeze between the truck and a van in a narrow break. The car then hit the truck, lost control, and hit another car, both ending up on the left side of the road. Young adults, such as these, make many mistakes and risks at their age, but it should never reach this extent. Our brains are still not fully developed until the age of twenty-five, and even then, you're still growing. This can cause many poor decisions, as we can see in this case. One reason schools incorporate events and dances for students is to prevent things like this. Rash actions such as the stolen car can also be caused by stress and being mentally unstable. Sometimes school work and being overwhelmed can be a major cause. As mentioned by Starkin, high school is supposed to be a learning experience, and being pressured with loads of work can cause rebellion. There have been many debates on this topic and it will continue to be discussed.
Leave a Comment