The Return of iCarly
Nine years ago on Nov. 23, 2012, the series finale of the beloved Nickelodeon series iCarly aired, ending the show's 6-season-long run. Back then, it was the perfect farewell to the show and its characters, but now it seems that it wasn't quite goodbye.
In December, the new streaming service Paramount + announced that they would be streaming a reboot series of the show including the original core cast, according to an article by The Bengal. So far, nothing has been released regarding the plot, time, or location of the show.
"It's probably a safe bet to assume that it will be set several years after the events of the finale to accommodate the current ages of the returning actors." Lesley Brey from The Bengal said, "Otherwise, everything else is a mystery."
Last week, the first on-set photo was released. Including Miranda Cosgrove (Carly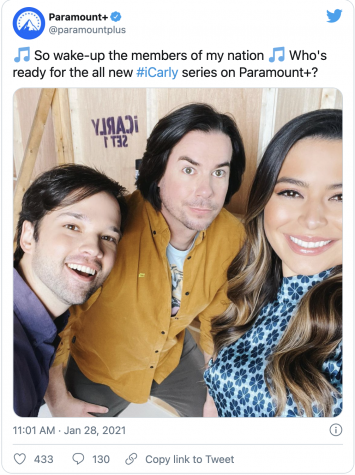 Shay), Jerry Trainor (Spencer Shay), and Nathan Kress (Freddie Benson), with a wall behind them reading "iCarly Season 1" according to Entertainment Weekly. Some have noticed that Cosgrove's co-star from the original series, Jennette McCurdy (Sam Puckett) has not been in the photos and has yet to be confirmed as a member of the reboot's cast. Another notable possible change in the show's cast and crew is the change of producers. The original iCarly producer, Dan Schneider, who created other well-known Nickelodeon shows such as Drake and Josh and Zoey 101, will not be working on the reboot. According to an article by HITC, there have been rumors circulating that part of his leaving Nickelodeon a few years ago was due to allegations of inappropriate behavior, but nothing has been confirmed. Instead, it has been announced that the new series will be created by Jay Kogen and Ali Schouten.
While it seems that there will be a while before the announcement of the reboot's air dates, full cast, plot, and other details about the show, in the meantime viewers can stream the first 2 seasons of iCarly on Netflix this month, according to an article by PopBuzz.
Sources:
https://deadline.com/2021/01/paramount-miranda-cosgrove-tease-icarly-revival-on-set-cast-photo-1234682692/
https://www.popbuzz.com/tv-film/news/icarly-netflix-watch-online/
http://isubengal.com/icarly-reboot-an-old-teen-favorite-returns/
https://ew.com/tv/icarly-revival-miranda-cosgrove-first-set-photo/
https://www.hitc.com/en-gb/2020/12/10/dan-schneider-icarly/
Leave a Comment