LeBron James Earns the Most Career Points Scored in the NBA League
LeBron James beats former basketball legend, Kareem Abdul-Jabbar, with 38,390 total career points.
On Tuesday, February 7th, LeBron James created history by scoring the most career points, a record that remained untouched since 1984. The prior title holder was Kareem Abdul-Jabbar, who beat record holder Wilt Chamberlain and held the record for 38 years. 
It was the third quarter of the Lakers' game against Oklahoma City: the Lakers were down with about 17 seconds left. LeBron moved into his defensive player quickly, before backing out and making a shot with 10 seconds left on the clock. The crowd went absolutely feral as LeBron James ran around the court with his hands in the air. The sports commentator exclaimed, "LeBron stands alone!" Photographers ran onto the court to capture LeBrons smile as he hugged his mother, and people cheered, "MVP! MVP!" Kareem Abdul-Jabbar watched as his all-time career points record, believed to be unbreakable, was finally broken. 
There were many questions from fans wondering if this was an upsetting moment for Abdul-Jabbar, as he did not seem too happy when LeBron beat his record, but Kareem came straight out on People magazine about his feelings, saying, "I'd already written several times stating exactly how I felt, so there really wasn't much to speculate about." This seemed to be enough from fans, but Magic Johnson, a close friend of Kareem Abdul-Jabbar, later said, "I thought he would keep this forever." Abdul-Jabbar responded to these comments, "I don't blame him for thinking that I might be bothered, because he knows how competitive I used to be. And, if someone had broken my record within ten years of me setting it, he would probably be right." The former player had much respect for LeBron and claimed that this new record break was not only good for the NBA, but also for the fans. Kareem announced in an interview what this meant to him, "It means someone has pushed the boundaries of what we thought was possible to a whole new level, and when one person climbs higher than the last person, we all feel like we are capable of being more." A beautiful way to express the advancements that LeBron made this basketball season. 
The good sportsmanship displayed by Kareem and LeBron is a great example for young athletes. It pushes people to continue to work their hardest and conquer their dreams. For more information on LeBron James and other basketball news, check out nba.com!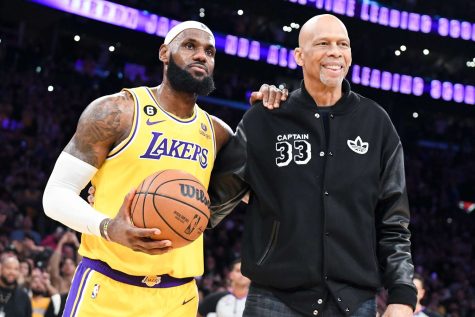 Leave a Comment