Skepticism Around the Astros' 2nd World Series Win
Baseball fans skeptical over Houston Astros' 2nd World Series Championship
The Houston Astros won their second World Series championship on Sunday, November 6th against the Philadelphia Phillies at their home field, Minute Maid Stadium. Their future triumph was not evident in the beginning, as their first three series games were a toss-up with the Phillies (losing two and winning one). The rocky start quickly turned into a winning streak when they won the next four games following this rough patch. However, their reputation was previously defamed by their cheating scandal in 2017. Astros fans were ecstatic to hear that their team had finally taken their first World Series win. The victory was somewhat long-lived until news of a cheating scandal broke out in November 2019. Some fans tried to ignore it while others used it as a reason to discredit the team as a whole. 
So what was their method of cheating, you may ask? According to The Philadelphia Inquirer, "the Astros staff and players devised a system — using video replay systems, television monitors, phones, and trash cans — to tell batters what to expect and how to respond." In this article, there is clear video evidence in which you can hear teammates clanging on trash cans in the dugout very quickly after the catcher relays a signal to the pitcher. And how were they punished? The team was fined $5 million and they were forced to forfeit their first and second-round draft packs in 2020 and 2021. However, this didn't seem to affect the team too heavily considering that they were still able to pull out a victory this year. 
When asked if the scandal affected her perception of the team, Emily Carr (10) shared," Yes it makes me feel like it was less deserved than some other teams who have a clean record." Emily also shared that she normally roots for the Angels. Sitting in a baseball game should be a courteous experience, especially for excited fans who support a team that plays in a different state. However, after the scandal, I heard the booing and unhappy baseball fans in the stands myself when the Angels played against the Astros this season. 
Within the top five search suggestions on TikTok for "Astros" is the recommendation "Astros caught cheating", in which multiple users use their previous cheating scandal to discredit their newfound victory. TikTok user: @purdome starts his video by describing a recent scandal in which Albert Pujols lent Martin Maldanado an illegal bat in the first game of the world series. He then goes on to call this "classic Astros cheating." Further on in the video he plays a "suspicious" clip of Astros pitcher, Framber Valdez reaching into the belt area of his pants and wiping something off. While it seems to be nothing too concerning, pitchers have previously been caught using substances like 'sticky stuff' to illegally improve their grip-strength. Along with the pre-existing controversy within the team, it is easy to call out every little thing as suspicious. He ends the video by stating, "As a fan of the game, this is very sad to see. Hopefully MLB does a full scale investigation and actually punishes people this time around." However, many fans in the comments disagree with this user and see it as a reach to further solidify the idea that the team is untrustworthy. 
While interviewing a former college baseball player and current teacher at Canyon, I was able to get some insight on his thoughts about this matter. "When I played in college, we were taught to try to look at the other coach's signs to 'break the code.' When I was a runner at second base, I was trained to look at the catcher's signs, and touch my helmet a certain amount of times to let the hitter know what pitch was coming next.  It was the responsibility of the other team to change up their signs otherwise they would get exposed.  It's part of the psychology of sports in my opinion.  BUT upon hearing the Astros were zooming in with a spy camera on lip reading (sign stealing) then using a spreadsheet and special algorithm to relay to players through banging on trash cans, I felt like this was bad character.  I believe the Astros weren't the only team using technology to gain an unfair advantage that year… However, I don't think MLB did a very good job investigating the Astros (or any other team).  They turned a blind eye because they were scared of what they might uncover throughout the league.  The fact of the matter is that the Astros were 'caught on tape.' Because of this, I feel that they should've forfeited their championship. I also was appalled they allowed the person who presented the scheme to remain employed with the Houston Astros," Mr. Derham shares.
When asked if he was skeptical of the team's recent success after the prior incident, he also shared, "Yes, very skeptical considering what was said previous. Also the fact that current players that were on the team back during the scandal have not fully apologized for exactly what was going on.  They said, 'We feel remorse for the impact on our fans and the game of baseball.' I would've had more respect if they would have just come clean and ensured all fans that this would never again happen in the future."   
Although the overall opinion of the Astros is skewed throughout the media and across baseball fans in general, it is clear that the incident has received its fair share of criticism. Some fans choose to sweep this incident under the rug, while others view this as the first of many possible scandals for the team. Whether you see this as a learning curve or if you are still awaiting a formal apology from the team and players, I urge you to continue enjoying the game of baseball.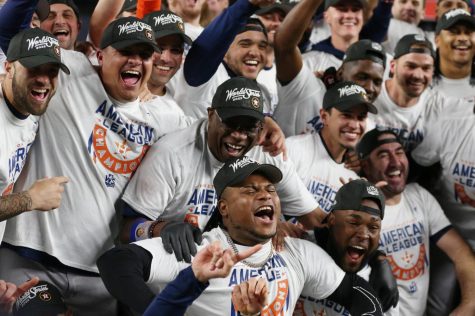 Leave a Comment