What will happen to Vivienne Westwood without the 'Godmother of Punk?'
After the tragic death of fashion designer Vivienne Westwood how will the punk scene continue without her?
Vivienne Westwood, a fashion designer, challenged traditional British fashion norms, established a global empire, and essentially pioneered nonconformity. Westwood, known as the "Godmother of Punk," had a lasting influence on the fashion industry by assisting in the mainstreaming of punk fashion. 
Many people may wonder what will happen to the brand now that its namesake is no longer in charge, after Westwood's passing. Could Westwood's distinctive and potent vision be lost with her passing? We have some hope, as we've seen certain companies—like Christian Dior and Alexander McQueen—have been able to carry on their founders' artistic visions even after they have passed away.
The ownership of Westwood's design label has been transferred to her longtime husband and business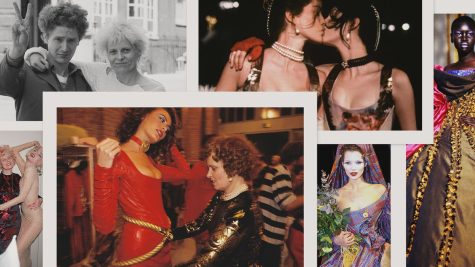 partner Andreas Kronthaler, who has long made significant contributions to the artistic direction of the brand. Westwood passed away on December 29 at the age of 81, but her spirit of breaking down barriers will continue. Vivienne Westwood once said, "I was messianic about punk, seeing if one could put a spoke in the system in some way." That's exactly what she did, in my opinion. She will be remembered in the annals of fashion as one of the creators who contributed to the punk fashion craze.
Together with Malcolm Mclaren, her business partner and the manager of the Sex Pistols, Westwood operated a store during the 1970s and 1980s. The store, which gained notoriety for its evocative t-shirts and designs inspired by graffiti, also sold the enormously significant genderless Bondage Suit, which was a big player in London's punk scene.
Westwood pioneered dramatic portrayals of history and art in her designs and changed how conventional fabrics, shapes, and articles of clothing were used after the closure of her original boutique.
Westwood aimed to keep her designs financially independent, without the security of other well-known names in the industry, unlike her peers in the global fashion scene. Until Jeffrey Banks joined management just two weeks before Westwood passed away, the icon's management team was made up only of Westwood and CEO Carlo D'Amario.
With a devoted clientele, licensing, and franchises, Westwood created a fashion empire over the course of her 40-year creative career. Westwood's label, which was founded in England, continues to generate the highest sales in her six UK-based shops, but her merchandise is also distributed in more than 80 other nations and has showrooms in the US, France, and Italy. Notably, the company's "made in Kenya" line attempts to promote environmentally friendly apparel.
The impact of Westwood goes far beyond the world of fashion. The phrase "buy less" is credited with being the source. Select wisely. "Make it last," was the motto of Westwood, a fervent opponent of capitalism. She vowed to support British civil rights organizations and to support Jeremey Corbyn and Julian Assange.
Above all, Westwood was an environmentally conscious designer. The Vivienne Westwood company takes pride in using organic and recycled materials, and it frequently reveals its carbon impact.
Her global brand was built around her advocacy. For Westwood, using fashion to engage people in politics and other social issues was important.
Westwood's narrative is captivating, bold, and occasionally contentious. There is hope that with Kronthaler, the rebellious energy that permeates her art will endure. Westwood's legacy will be felt for years to come as an independent businesswoman who wasn't afraid to make waves in the fashion industry and beyond.
Leave a Comment