Students Deserve Better
The teachers' union in Columbus, Ohio are on strike because of the lack of air conditioning in classrooms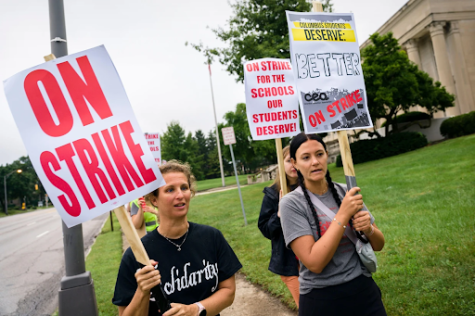 Imagine not having AC in your class at the beginning of August in the blazing heat. Well this is the reality of the students and staff members in Columbus, Ohio. On Monday morning, a teacher union striked outside of East High School against the school district for not having air conditioning in their classrooms. The teachers claim that the overheating classrooms cause students to be distracted and not reach their full learning potential. The promises of the school board to put in air conditioning are not being taken seriously after numerous broken promises in the past. According to the Illinois Department of Public Health, the air temperature of a classroom needs to be between 68- 75 degrees Fahrenheit in the winter while in the summer it needs to be between 73-79 degrees Fahrenheit. The rising heat from climate change is making the classrooms more, and more unbearable each year. Some parents think the teachers are being over dramatic, but in reality air conditioning is a necessity to teach in classrooms.
Canyon High School is fortunate enough to have air conditioning in all of the classrooms especially, because it is located in Southern California. However, the gym does not have air conditioning which is problematic because of the number of events that are in there. At Freshman Fun Day, when there were over 700 students in the gym, many students found it unbearable to sit down for two hours.
"It was not good. It was so hot. We were all really sweaty and all bunched together." -Maycie Brown (9)
The girls volleyball games are played in the gym where there are a lot of supporters in the bleachers. The players practice everyday in the gym for at least an hour which is a long time in a confined hot room.
"Practicing and playing volleyball without AC is like taking a test. At first it sucks, you're so sweaty and you can't even think straight. You want to give up as soon as you start but as time goes on its get easier. You start to embrace the sweat, use the heat to your advantage, and view the "no AC" as just a little bump in being able to do something you love, which in this case is playing volleyball. " -Rylee Coney (12)
It is unacceptable to have people suffer from the heat of the gym. The next time you feel the breeze of the air conditioning, in a science room just be thankful you do not live in  Columbus, Ohio.
Leave a Comment