High School Sports Opening back up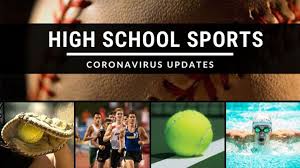 For all the athletes, the time has come. The California Department of Public Health finally issued new guidelines on Friday for youth and high school sports. This recent news is a perfect transition that will slowly open the door for a speedy return to several sports. A few sports allowed to resume are football and water polo for their current season. Under new guidelines, those sports have the ability to continue if all players and coaches are tested for Covid-19 once per week. According to The California Department of Public Health, the state is responsible to cover the funds for weekly testing of all players and coaches.
Governor Gavin Newsom's announcement after weeks of immense pressure from advocacy groups like Let Them Play California as well as the CIF (California Interscholastic Federation). Before the news, outdoor contact sports would not have been able to resume until the specific county reached the orange tier, meaning less than 4 cases per 100,000. In recent weeks, rates have recently dropped significantly. The new guidance will officially go into effect on Feb. 26, outdoor contact sports such as water polo and football will not be allowed to have any full contact games or practices until their county is below the 14-case mark.The rules apply to all organized sports for children, adults, schools and community-sponsored programs. This does not apply to college or professional sports which would fall under the category of "community events." Although this announcement is great, there are still rules in place.The guidance requires any spectators in crowds as well as coaches to wear masks. Athletes should also wear masks when not playing or practicing, or just when sitting on the sidelines.
Sports like baseball and softball remain in the red tier and are able to hold competitions when their seasons begin regardless of if the county has less than 14 cases per 100,000 people.
Yellow tier sports like basketball, volleyball, wrestling and competitive cheerleading, and other various indoor sports, are still eligible to compete until the county is in the least restrictive yellow tier. Recently, volleyball has moved up from the orange to yellow tier, heading in a bad direction. While coaches, athletic directors, players, and families can hardly contain themselves with the news of sports opening up, it is important to continue taking safety precautions. This is some of the best COVID-19 related news teens have gotten in a while and boy are they excited. Fingers crossed for excitement packed seasons!
Sources:https://www.desertsun.com/story/sports/high-school/2021/02/19/california-loosens-rules-youth-sports-making-easier-football-other-sports-resume/4507138001/
https://abc7news.com/ca-youth-sports-outdoor-in-california-guidelines-covid-19-update/10354132/
Leave a Comment